4 More Stories to Read This Christmas
+ A delectable snack inspired by Sherlock Holmes' love of Turkish coffee
We've come to the end of the 12 Days of FORMA. All good things must come to end and so forth. But we do have one more delicious recipe to share with you (this one inspired by Sherlock Holmes and his love of Turkish coffee) as well as four more story recommendations—all of them family-friendly. Oh, and over on the FORMA Instagram account we're giving away a copy of the Folio Society's beautiful edition of Dickens' A Christmas Carol, so be sure to head there and follow to enter. Thanks for following along and Merry Christmas from all of us here at FORMA.
---
4 More Stories to Read with Your Family
"Shoemaker Martin" | auth. Leo Tolstoy; illust. Bernadette Watts (translated by Michael Hale and adapted by Brigitte Hanhart)
This adaptation of Tolstoy's short story about a bereaved cobbler's conversion experience lands with all the weight of a parable, and all the joy of the incarnation. As Martin grieves the untimely death of his wife and children, he clings to an ebbing faith by reading the Gospels, where he encounters an account of a Pharisee in whom he sees himself. That wintry night, God speaks to Martin in a dream, promising him that on the following day, He will visit Martin. Martin waits for the Lord all day, but each knock on his door is yet another of his neighbors, needy and broken as he is. As he goes about caring for them, the shoemaker begins to lose faith in himself, and in his God—perhaps it was not, in fact, the Lord who spoke?

Who among us has never asked that question? Amid the hustle and bustle of the holidays, it is easy to forget that the Advent season is a season of waiting on joy to be fulfilled, on deliverance to come. It's a season of reflection on our need, and for many a season of profound weariness. After all, the world that rejoices in a savior is a world that stands in desperate need of His coming! As Martin's longing for the Lord's presence is fulfilled, Tolstoy offers us a stirring reminder that, as Hopkins writes "Christ plays in ten thousand places, lovely in limbs, and lovely in eyes not his to the Father through the features of men's faces." —Ian Andrews
"Bertie's Christmas Eve" | Saki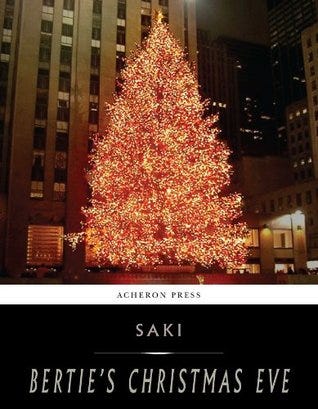 For those who crave a bit of snark in the midst of a season of sentiment, look no further than the satirical "Bertie's Christmas Eve" by British author Hector Hugh Munro, who wrote under the pseudonym Saki. This delightful Wodehouse-esque short story revolves around the conventional Steffink family's prodigal child, ne'er-do-well nephew Bertie, who resents the family's plans to ship him off to a foreign country after Christmas. The sulky Bertie devises a hilariously diabolical plan to stick it to his pompous relatives, creating some wicked holiday cheer for anybody who's ever fantasized about locking their relatives in a cow shed. —Heidi White
"The Gift of the Magi" | O'Henry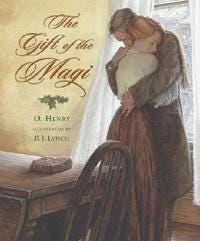 As young married couple Jim and Della consider the oncoming holiday, both are at a loss: with so few dollars in their pockets, how can they ever prove their love to one another with gifts? Not to be deterred, each gives up their prized possession to bless the other. While I won't ruin the story's ironic twist for the few new readers out there, I will say that O'Henry's classic is not long on nuance, and those accusing it of bald moralism have a solid point. Yet, beneath the irony and the thinly veiled critique of holiday commercialism lies a poignant reminder of some very true things: to give is truly better than to receive, and a gift of love is by far the most precious. Read with tissues handy! —Ian Andrews
The Best Christmas Pageant Ever | Barbara Robinson
If you're looking for a story to delight the whole family this Christmas, consider The Best Christmas Pageant Ever by Barbara Robinson. When an unruly gaggle of outsider siblings hijacks the staid church Christmas Pageant, hilarity ensues. But there's more to Pageant than ham, shazaam, and cigar smoke in the church bathroom. A pop culture phenomenon at the time of its publication in 1971, the power and mercy of the Incarnation illuminates this comic tale of how the despised Herdman family is transformed through encountering the Christmas story. —Heidi White
---
Brandy Snaps with Turkish Coffee Cream (inspired by Sherlock Holmes)
Thanks to the imported German customs of her husband Albert, the reign of Queen Victoria was a golden age for the festive observance of Christmas. It is only logical, then, to offer you another cheery recipe that combines a holiday favorite with a nod to one of the great literary figures of the Victorian age: Sherlock Holmes. Alison Walsh of Alison's Wonderland Recipes adapted this common British dessert into a Holmesian homage by adding coffee to the traditional cream filling. Inspired by Holmes' affinity for Turkish coffee, we've amped up the coffee flavor and added fragrant cardamom. These pair well with a pipe, a spiked coffee, or a few hours of artful deduction. —Sean Johnson
Ingredients
1/2 cup (one stick) butter

1/3 cup molasses

1/4 cup sugar

1/4 cup dark brown sugar

1 tbsp brandy

3/4 cup flour

A pinch of salt

1/4 tsp ground ginger

2 cups heavy cream

1/3 cup confectioners' sugar

1 tsp instant espresso powder

1/4 tsp ground cardamom
Instructions: Preheat oven to 325°, line two baking sheets with parchment paper, and set a plate or third baking sheet to chill in the fridge. Heat butter, molasses, sugar, and brown sugar over med. heat, stirring constantly, until the butter has melted and the mixture has come to a soft boil. When it boils, remove from heat and add flour, ginger, and salt, stirring until combined (a few small lumps won't hurt anything). Stir in brandy.
Now begin spooning the mixture onto your lined baking sheets in dollops no wider than a half-dollar, leaving about three inches between each cookie.
Bake one batch at a time for 10 minutes (as the first batch comes out of the oven, the second goes in, and so on until your mixture is gone).
After baking, let cookies cool for 1 minute and then shape them into tubes by draping them over the handle of a whisk or other cylindrical object and forming them with your fingers, then lay them to cool on your chilled plate or pan—if the cookies get too stiff to shape you can pop them back into the oven for 5 or 10 seconds to soften up; likewise, if they are too soft to hold their shape, you can hold your cookie-wrapped whisk handle in the freezer for a few seconds.

To finish the cookies, combine cream, confectioners' sugar, espresso powder, and cardamom (a healthy splash of brandy or coffee liqueur is more than allowable here, too) in a large mixing bowl and whip to stiff peaks. Transfer to a piping bag or large zip-top bag with a corner snipped. Now fill cookies from both ends and the game is afoot.
---