Discover more from FORMA Journal
Book reviews, interviews, poetry, and essays online and in print.
Over 4,000 subscribers
Agatha Christie's Top 20 Novels
(As chosen by the FORMA editors in honor of her 130th birthday)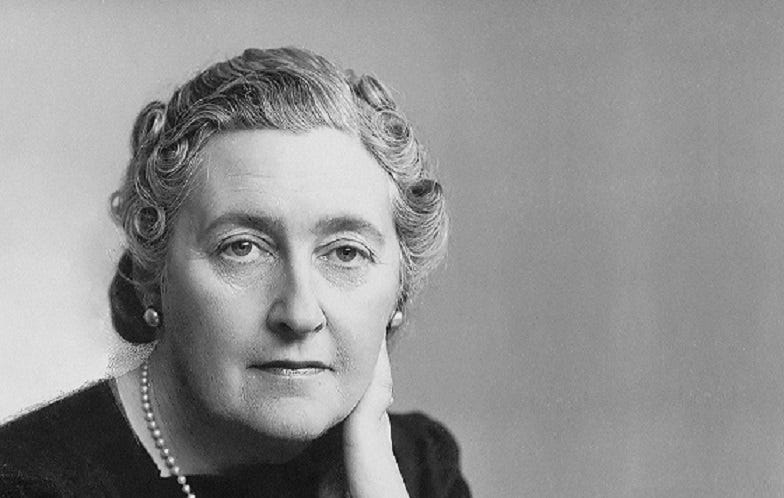 Dame Agatha Christie was born on September 15, 1890, which means, of course, that her 130th birthday would have been earlier this week. Throughout her illustrious career, the Queen of Crime wrote sixty-six detective novels, fourteen short story collections, six romance novels, and the world's longest-running play, The Mousetrap, which was performed in London's West End from 1952 until it was canceled this year due to Covid-19. Famously, her novels have sold more than 2 billion copies; her work is outsold only by the Bible and Shakespeare. 
She created two of crime fiction's most memorable detectives—Hercule Poirot and Miss Jane Marple—and she invented many classic tropes, including the murderer who is the unlikeliest suspect, falsifying a victim's time of death, the double bluff, clues hidden in plain sight, and detectives who gathering suspects for the denouement. These and other tropes have become essential conventions of detective stories thanks to Agatha Christie, forging a lasting legacy.
But her work also provides sophisticated contemplations about the inherent human dilemmas embedded within the problems of crime: love and death, mercy and justice, the reality of grief, and the psychological impact of criminality and innocence. 
We here at FORMA know the pure delight of a good whodunit, so in honor of Dame Christie's birthday, we polled our editorial team in an effort to create a list of Christie's twenty greatest detective novels. Whether you are a crime fiction novice or a mystery story master, we invite you to cozy up with one or more of the genre's best and raise a glass to 130 years of the Queen of Crime.
---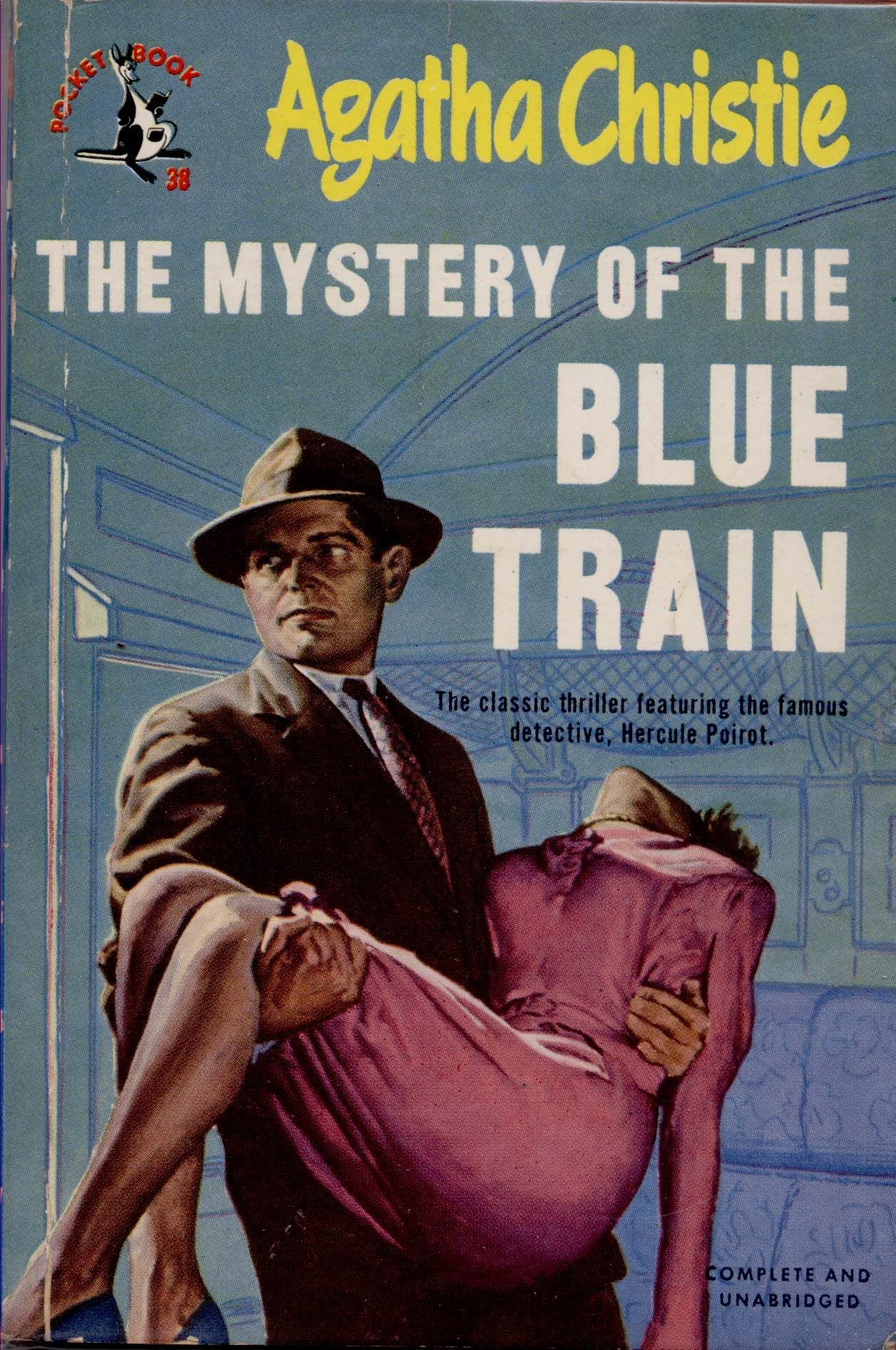 The Mystery of the Blue Train
When gentle working girl Katherine Gray receives a dazzling inheritance from an employer, she travels to the south of France aboard the luxurious Blue Train. As she becomes entangled in the complex dynamics of the rich Kettering family, she discovers that the lives of the rich and powerful are not always what they seem. This Poirot whodunit has all the elements of a classic mid-century detective story along with the delightful overlay of a British comedy of manners. —Heidi White
---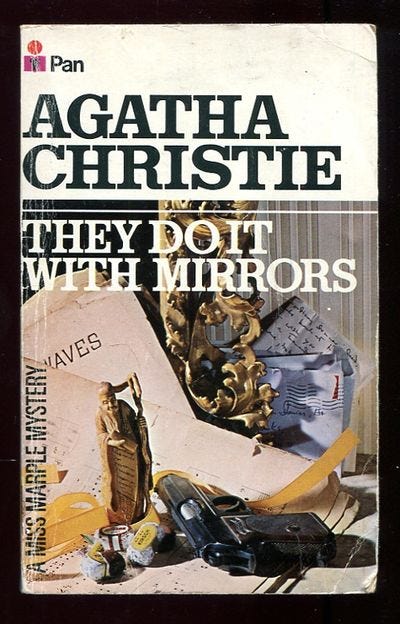 They do it with Mirrors
They Do It With Mirrors is Christie's riff on the formula she helped make famous. Like the stage magicians that give the novel its name, Christie has taken the familiar Marple mystery—country house, red herrings, family drama at the heart of the climactic revelation—and inverted it. This isn't a perfect novel, but it holds up under rereading in large part because of the way it complicates the typical, tidy Marple conclusion by exacting an emotional payment in exchange for the neat denouement. Forcing the reader to pay for a happy ending makes the final pages of this Marple feel like a Poirot, and I don't mind making a few enemies by saying that might be the greatest compliment one can give a Marple mystery. —Sean Johnson
---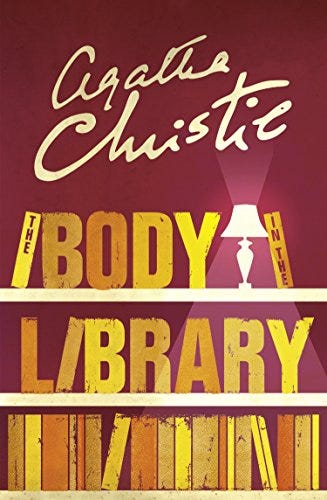 The Body in the Library
I hope you'll pardon such barefaced use of Wikipedia, but I have always laughed at the way the Wikipedia page for this novel describes Miss Marple. She is, it says, a "resident of village of Saint Mary Mead who has much experience in resolving murders." This is true, but it's also hilarious and dark and actually captures Christie's own sense of humor rather beautifully. The trouble, of course, is that no story about a young woman found dead, wrapped in a rug in an English manor house, can ever be truly funny. And so in Miss Marple, Christie manages to walk a tightrope that many of the most literary authors in history have fallen from. The Body in the Library works because Miss Marple matches Poirot's trademark ability to find meaning in the details, but with a more humane (and hopeful) view of mankind. —David Kern
---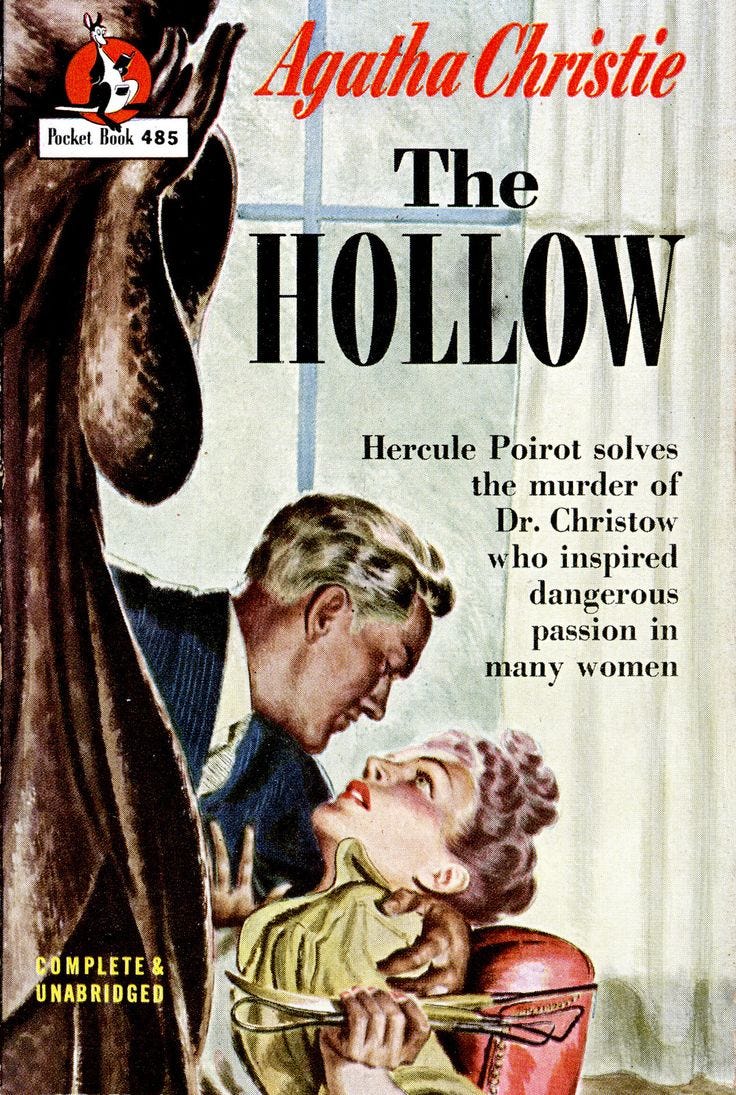 The Hollow
Handsome, virile Dr. John Christow has all the trappings of success: a thriving Harley Street medical practice, an adoring wife, rich benefactors, a promising line of professional research, and a beautiful mistress. So what makes him feel restless and dissatisfied? And why is he haunted by memories of an old love? When the Christows join the elusive Angkatell family for a weekend at their country estate, disaster strikes and only Hercule Poirot can properly trace the complex threads of the mysterious tragedy. In this novel, Christie submerges us below mannerly surfaces where primal longings dwell. Containing some of Christie's most hauntingly memorable characters and a solution of superb psychological subtlety, The Hollow is an underrated Christie classic. —Heidi White
---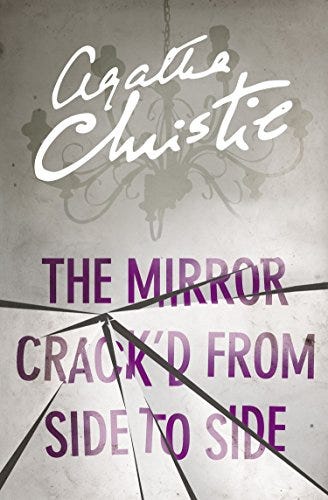 Mirror Crack'd from Side to Side
Excitement reigns in the sleepy country village of St. Mary Mead when Hollywood film star Marina Gregg purchases and renovates Gossington Hall. Thrilled to have a celebrity in their midst, the village folk throng to the actress's glittering welcome party. When a guest ingests a poisoned cocktail apparently meant for Marina Gregg herself, Miss Marple is on the spot and on the case. Behind the dazzling veneer of old Hollywood glamour, the sharp-eyed, wooly-haired spinster discovers the festering secrets and thwarted hopes that lead her to the deadly killer. Expertly juxtaposing dry British humor with the dark underbelly of the human psyche, this novel is inimical Christie. —Heidi White
---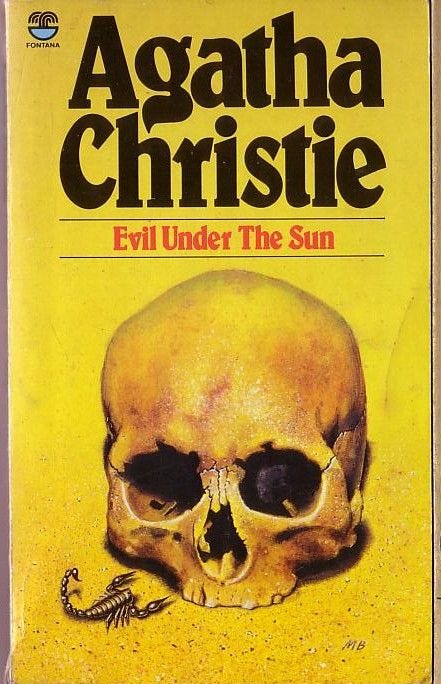 Evil Under the Sun
This 1941 effort from an already fabulously famous Christie had the difficult task of making a statement despite the recent success of And Then There Were None. Luckily, the Dame had the unfailing support of her greatest hero: Hercule Poirot. The unflappable Belgian and his "little grey cells" are led on a merry chase by one of Christie's most cerebral and calculating killers. It's difficult to say it any better than this review from The Observer in June 1941: "Evil Under the Sun has a luxury summer hotel, closed-circle setting, Poirot in white trousers. Victim: redhead actress man-mad. The smashing solution, after clouds of dust thrown in your eyes, ought to catch you right out. Light as a souffle." —Ian Andrews
---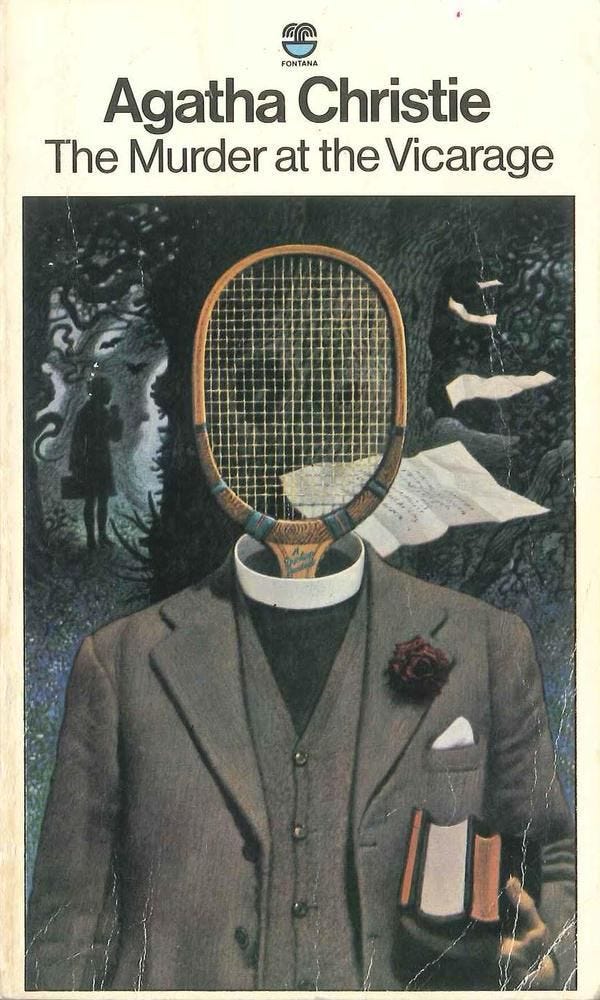 The Murder at the Vicarage
The first of Miss Marple mysteries, Vicarage is about the murder of a man that nobody likes, a recurring Christie trope that allows her to ask the kind of questions about justice and humanity that most murder-mysteries can only flail after out of obligation. And yet, truly, Vicarage stands out most for its introduction of Marple, one of the more memorable characters of twentieth-century fiction and one who introduced a much-needed (and heightened) sense of humor to Christie's canon. —David Kern
---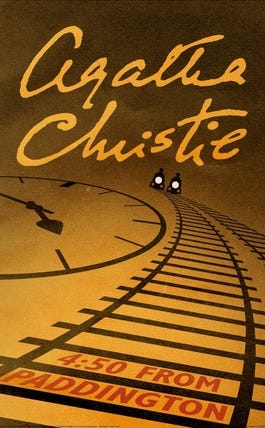 4:50 from Paddington (aka What Mrs. McGillicuddy Saw)
When respectable spinster Elspbeth McGillicuddy splurges on a first-class ticket from London to St. Mary Mead to visit her old friend, Miss Marple, she does not expect tragedy. But when another train runs parallel to hers for a few fateful moments, she inadvertently witnesses a violent murder. Horrified, she enlists Miss Marple's help to solve the crime. Along with our favorite spinster crime-solver, it gives us another memorable heroine—the indomitable Miss Lucy Eyelebarrow—as well as face-palming red herrings, sufficient clues, a satisfying puzzle, and a wholly unexpected villain. —Heidi White
---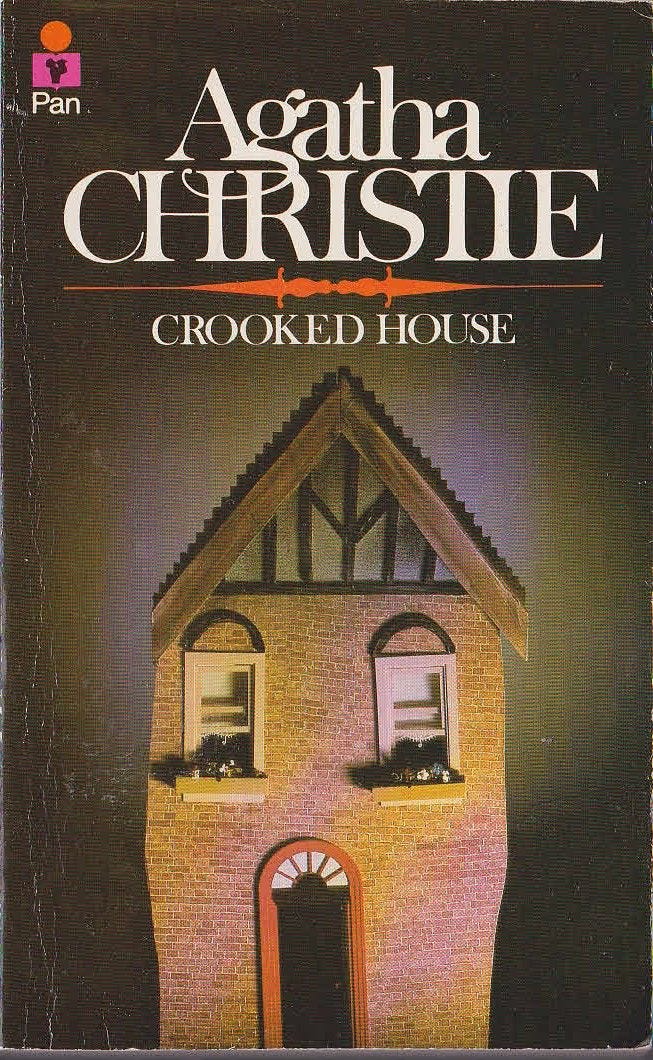 Crooked House
Crooked House is Christie at her atmospheric best. Awash in detective fiction tropes, from an improvised household poison to actual Scotland Yard investigators, the novel stands out due to its titular setting: a massive, lavish mansion with three crooked gables that houses three generations of the powerful, if dysfunctional, Leonides family. Christie numbered this work among her two personal favorites, and the rest of the world agrees with her. Readers who find a familiar formula or two should remember: Dame Agatha invented them. This is a true original. —Ian Andrews
---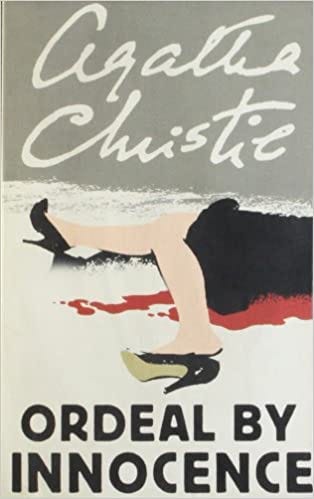 Ordeal by Innocence
Another of her powerful stand-alones, Ordeal By Innocence was a favorite of Christie's though it took a critical beating for being more gritty and cerebral than her readership was used to. The novel's great achievement is not any one character or plot device but the general atmosphere of dread Christie achieves by overturning an old murder conviction and pulling the rug from under a family who slowly comes to realize they've been living with the true killer for years. Hindsight confirms Ordeal By Innocence was Christie on the bleeding edge of her genre. —Sean Johnson
---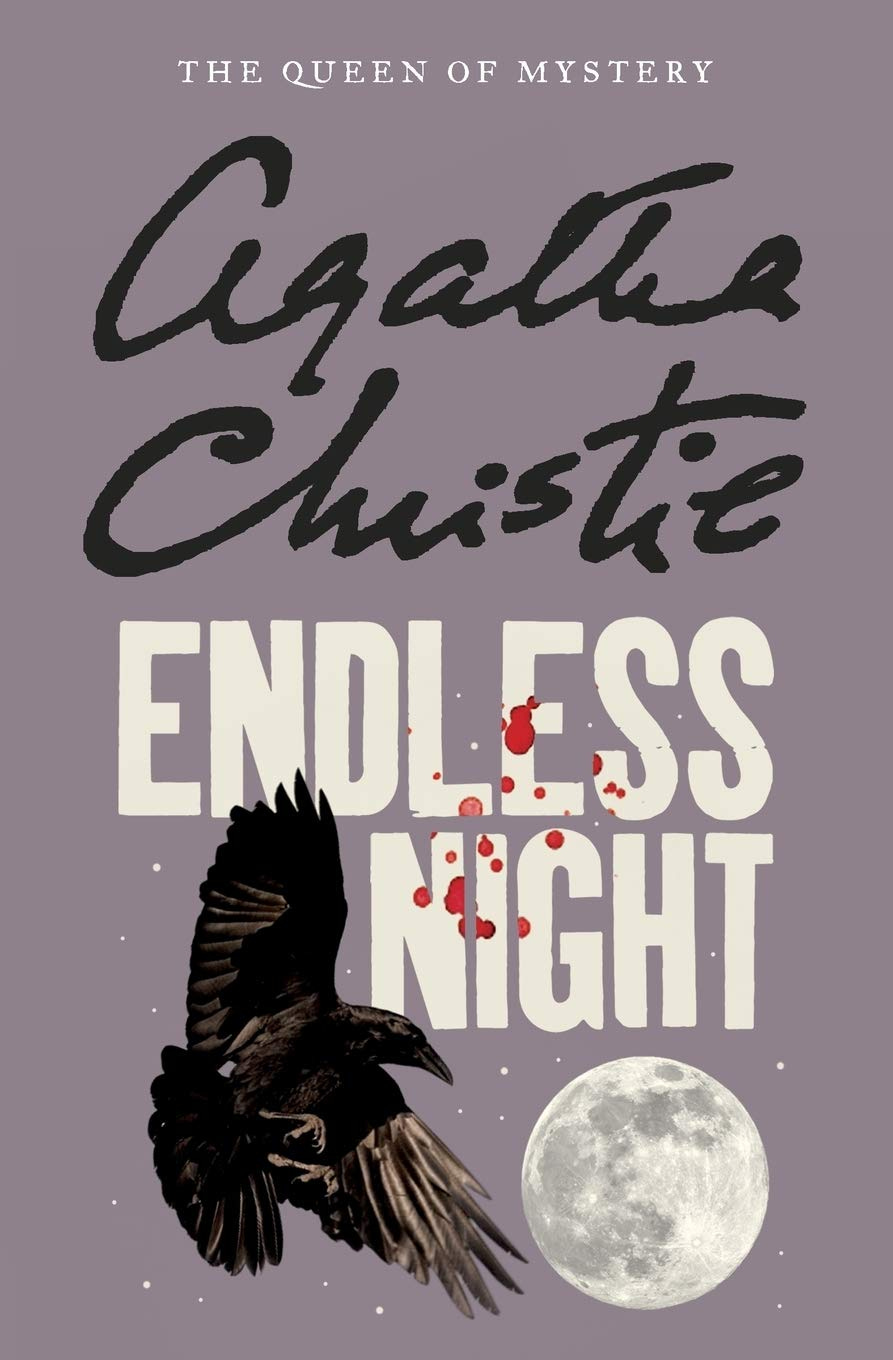 Endless Night
Endless Night may be the least characteristic of Christie's novels; it is certainly one of her best. While she borrows elements from several earlier books, she dispenses with the detective protagonist altogether in favor of a confessional psychopath and a crime that seems to will its own discovery. The result is a stylish and lingering gothic mystery worthy of Poe himself. Some are born to sweet delight,/Some are born to endless night. —Sean Johnson
---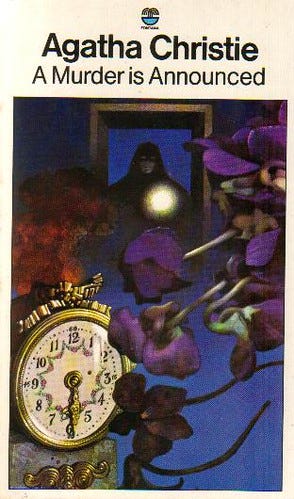 A Murder is Announced
When Christie brought out A Murder is Announced in 1950, it had been eight years since she had published a Miss Marple novel. The book drew the attention of prominent critics who had overlooked her last few showings and left no doubt that both the authoress and her spinster detective still had their edge. Christie sets her heroine a double challenge—a murder publicized before its occurrence and an unlikely killer hiding in plain sight—and the development of the case hinges on several novelties to the genre. This one has more twists than an episode of All My Children, but it never slips into melodrama and when the big reveal finally happens the "aha" moment is as good as they come. —Sean Johnson
---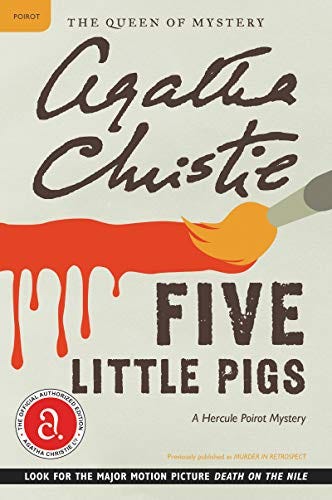 Five Little Pigs (or Murder in Retrospect)  
The lovely and mercurial Caroline Crale died in prison after being convicted of poisoning her philandering husband. Sixteen years later, her daughter pays a visit to the celebrated detective Hercule Poirot, begging him to prove her mother's innocence. Intrigued, Poirot sets out to solve the cold case. Investigating the stories of five suspects from the fateful day of Amyas Crale's murder, Poirot must unravel a complicated tangle of relationships, attachments, events, and memories. Perhaps Christie's most ingenious and satisfying "murder-in-the-past" plot, this novel is laced with an atmosphere of haunting grief nearly Brontë-esque in tone while at the same time providing a skillfully paced and shrewdly complicated puzzle. —Heidi White
---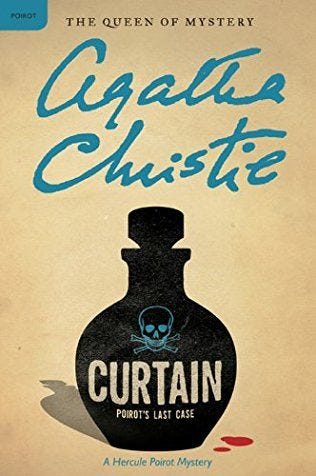 Curtain
Christie ends the saga of Hercule Poirot where it all began, at Styles Court. Poirot is on the hunt for a cold case murderer and knows that person to be among the house guests. Drawing to a close her long and mighty reign as Queen of Mystery, she ultimately reveals a keen awareness we have always suspected: the mystery of reality cannot be neatly unraveled by anyone, Belgian or otherwise. Her final flourish will emphasize once and for all the true complexity of the great detective. —Emily Andrews
---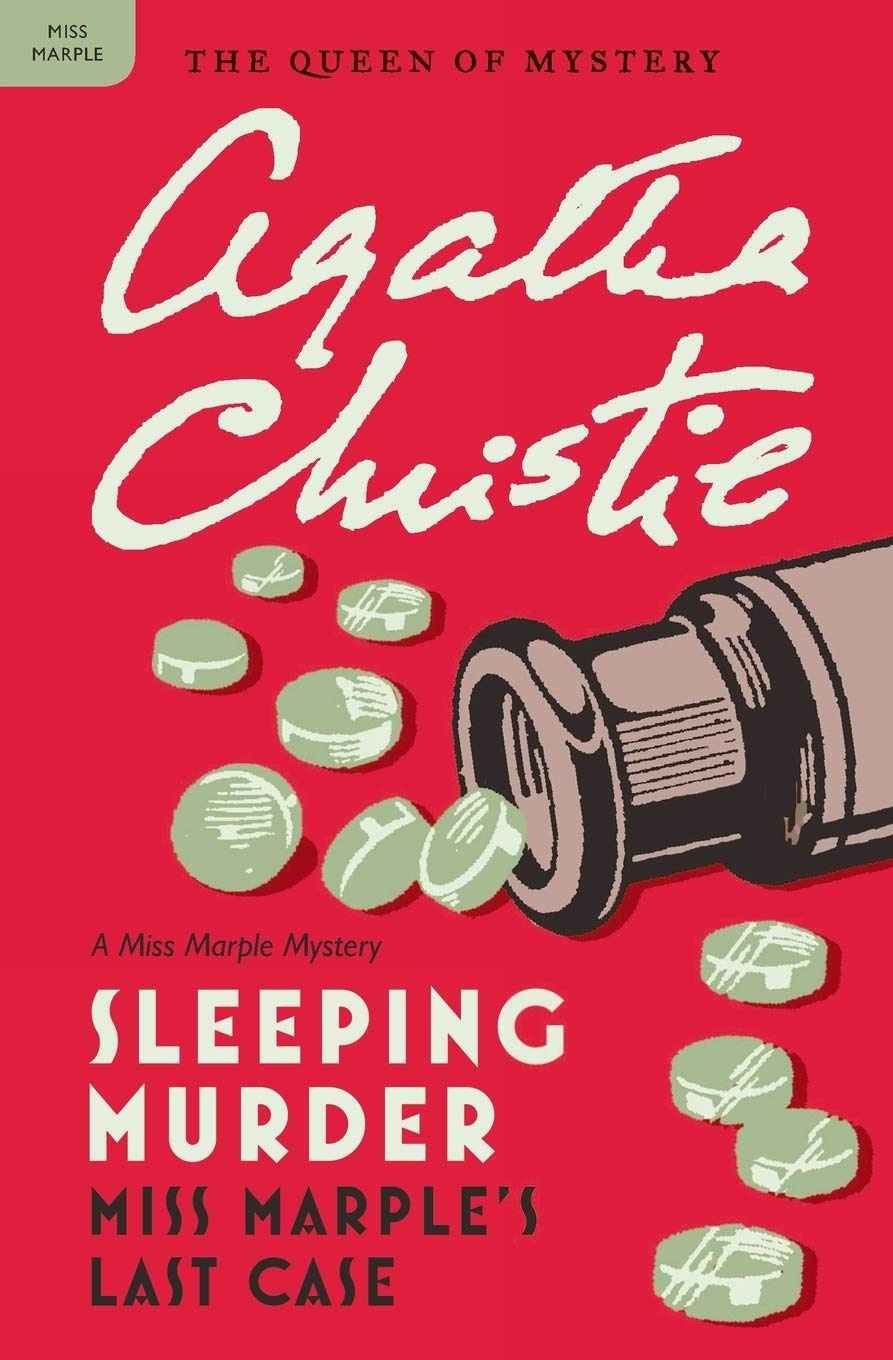 Sleeping Murder
The tricky thing about recommending a murder mystery is that saying anything to distinguish it from the one next to it is liable to give it away. That isn't a problem with Sleeping Murder—it simply does all the tropes better than the rest of the shelf. Haunted house meets private detective meets extreme home makeover in one of the creepiest, slow-burning-est mystery stories you'll ever read. A cold case never felt so stifling. —Ian Andrews
---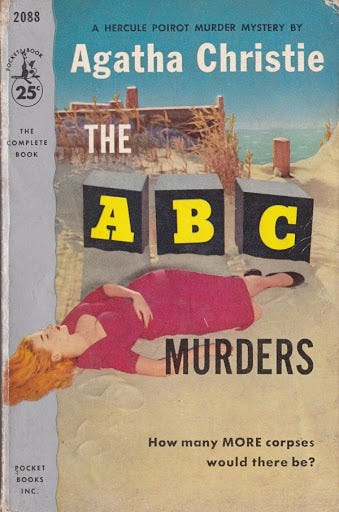 The ABC Murders
One of Christie's best-reviewed novels upon its release, The ABC Murders is just grisly enough to avoid being highbrow and just literary enough to avoid being pulp. As with many of Christie's stories, the scenario is fairly straightforward: Poirot receives a series of threatening letters from a nefarious murderer who challenges Poirot to a duel of wits. The murderer chooses his victims based on the first letter of their name (A . . . B . . . C . . .) and dares Poirot to catch him in the act. In bringing Poirot into the drama of the story, rather than making him a bystander with an uncanny ability to decipher clues, Christie also brings the reader deeper into the tragedy of the crimes. Of course, that is to say nothing of the true genius of the conceit itself: since it's publication readers with last names at the top of the alphabet have been warily on the lookout for mad imitators. —David Kern
---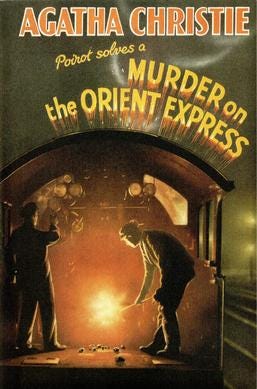 The Murder on the Orient Express
Questions of justice, duty, and mercy undergird every great mystery novel. In Murder on the Orient Express, Christie proves her literary pedigree by demonstrating the answers aren't always black and white. And why wouldn't you want to ponder universal truths from the comfort of the most lavish and exotic train in the world? When the Orient Express gets stuck in a snowstorm and one of the passengers is murdered, the fastidious Hercule Poirot will find out what happens when divine ideals encounter human reality. —Emily Andrews
---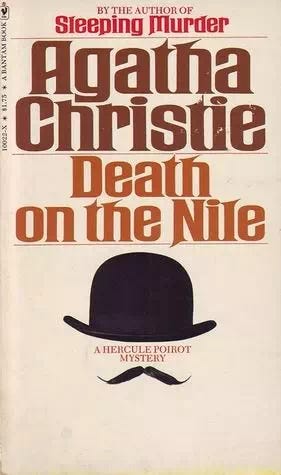 Death on the Nile
The trailer for Kenneth Branagh's forthcoming adaptation of this 1937 novel opens with Branagh's Poirot uttering the words, "the romance of the desert has the power to seduce" —an apt entryway into a book about jealousy, rage, and resentment. As in The Murder on the Orient Express, Death on the Nile features a motley crew of travel partners who are thrust into a dark mystery of their own making. Linnett Doyle is a young and beautiful heiress with a handsome husband with whom she is traveling. Alas, she fears that his ex-lover, who has been stalking her, means to do her real harm. So she enlists Poirot to watch her back, as it were. Featuring a genuinely surprising denouement, Death on the Nile reveals Christie's unique ability to disorient her reader just enough for Mr. Poirot to come to our aid. Rarely has the red herring been so masterfully employed. —David Kern
---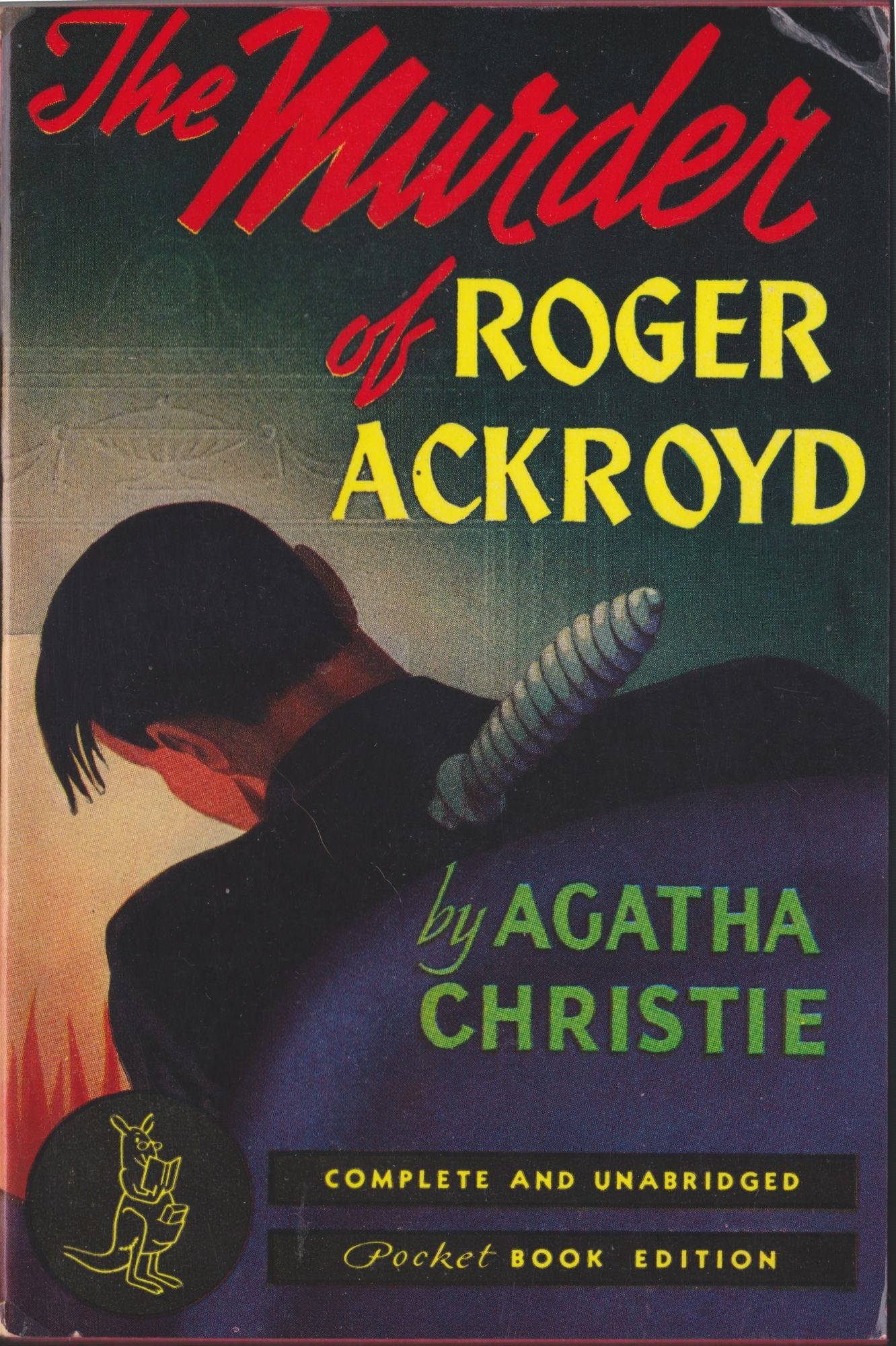 The Murder of Roger Ackroyd
When I was 11, my father handed me a plastic clip-on reading light—you know, the kind orchestras and stage managers use—and told me that bedtime, hitherto an adamant regime, was now theoretical in my case. I was empowered to decide when I was sleepy all by myself, and in the meantime, I could stay up and read. The first book he handed me, I suppose as some sort of initiation was The Murder of Roger Ackroyd, in which Poirot takes the stage for the third time, sorting through a murder that appears most conventional on its face. As Christie deftly casts suspicion on each of the story's nine or so different suspects, however, it's safe to say that even the experienced reader will be well-and-truly stumped. I didn't sleep a wink. —Ian Andrews
---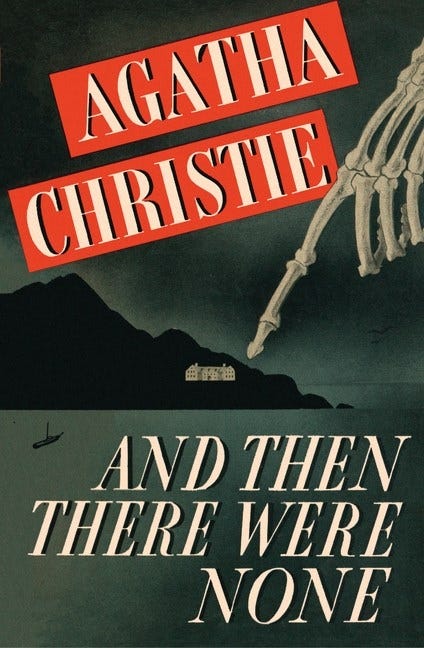 And Then There Were None
The comfortable formula of an Agatha Christie novel should never be reviled. The satisfaction of met expectations is what keeps us coming back to her work time and again. Sometimes, however, Christie flips the script, and this is when her true literary merit shines forth in all its glory. And Then There Were None is arguably her best work in that mode, outselling all other Christie titles by 100 million copies. It remains the highest-selling mystery novel of all time. If you don't yet know how it ends, I envy you your first reading. When 10 house guests get trapped together alone on an island and one of them turns up dead, the murderer must walk among them. —Emily Andrews
---
Thanks for reading! This is the free version of FORMA. To get the full experience—including the print edition—subscribe now!