A Literary Plum Pudding
When a historic ruby is stolen from a foreign prince at an English country manor in mid-December, the powers-that-be recruit master detective Hercule Poirot to recover the jewel, unmask the thief, and restore order to the realm. The mission is delicate, and the cover story is . . . Christmas. The pragmatic Belgium sleuth is forced to leave his heated flat in London to partake in an old-fashioned English Christmas, complete with "all the same old things, the Christmas tree and the stockings hung up and the oyster soup and the turkey—two turkeys, one boiled and one roast—and the plum pudding with the ring and the bachelor's button and all the rest of it in it."

Ah, the plum pudding. Perhaps nothing is as emblematic of an old-fashioned English Christmas than the rich, plummy, fruit-laden dessert, delivered to the table wreathed in brandy flames, then slathered in decadent hard sauce. The plum pudding is the centerpiece of the English Christmas table. Making a plum pudding might feel like an intimidating undertaking for those of us who, like Poirot, are "foreigners," but do not fear. If you have a bit of time and a lot of butter, plum pudding is in your grasp.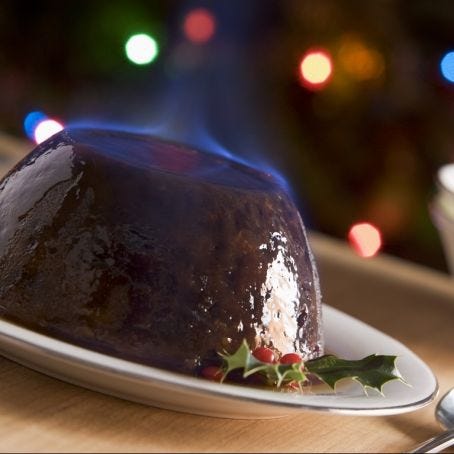 FORMA's Christmas pudding recipe offers an authentic, old-fashioned English Christmas pudding with ingredients you can find at any American grocery store. Plan ahead—the pudding, like a great book, improves with age. Even if you do not find a valuable jewel hidden in your Christmas pudding, this rich dessert will surely become a beloved addition to your Christmas table. —Heidi White

Ingredients:
Generous 1/4 cup all-purpose flour

1/8 teaspoon freshly grated or ground nutmeg

1/8 teaspoon ground ginger

1/8 teaspoon mixed spice (in Britain), or an extra pinch of nutmeg and ginger and a pinch each of cardamom

1 small lemon

1/4 teaspoon salt (generous)

1 cup breadcrumbs

1 cup grated butter

1 chopped tart apple

2 tablespoons golden raisins

4 tablespoons chopped almonds

2 tablespoons candied citrus peel

2 tablespoons pitted prunes

6 tablespoons raisins

1/4 cup packed brown sugar

2 large eggs

3 tablespoons brandy, plus more for flaming

1/4 cup stout (I use Guinness. You can also use root beer or cream soda.)

Hard sauce, for serving (see recipe below)

8 tablespoons slightly softened butter

8 tablespoons powdered sugar

3 tablespoons brandy
Steps
Butter the pudding basin (I used a ceramic bowl) liberally and press a round of parchment or wax paper into the bottom and slightly up the sides of the bowl/basin.

Mix the flour, nutmeg, ginger, mixed spice, and salt in a large mixing bowl. Grate the zest of the lemon directly into the bowl to capture the spray of lemon oil along with the zest. Add breadcrumbs, grated butter, apples, raisins, almonds, candied peel, prunes, currants, raisins, and brown sugar. Mix thoroughly with your hands. Either cover the bowl and let the mixture rest overnight, or just carry on with the recipe now…

Cut and squeeze the juice of half of the lemon in a medium bowl. Whisk in the eggs, brandy, and stout.

Scrape the egg mixture over the dry ingredients and mix thoroughly to make a sticky lumpy batter.

Turn the batter into the prepared basin/bowl and pat it level. Place a round of parchment or wax paper on top of the batter. Cover the bowl with a large cloth napkin or square of foil. Let the napkin drape over the sides of the bowl; for foil, press down the sides to cover the rim with plenty of margin. Tie a piece of string under the rim of the bowl to hold the napkin or foil in place. If you have used a napkin, tie the ends as follows to make a handle: Bring two opposite corners to meet on top of the bowl and tie them together, repeat with the two remaining corners.

Set the bowl in a large pot and fill it with water about halfway up the sides of the bowl. Cover and steam 4 to 5 hours (or for 8 if you want to reduce final steaming time to 1 hour). Let cool and store in the fridge. Steam for another 4 to 5 hours before serving (or for 1 hour if you have already logged 8 hours). Serve hot.

To serve, unmold the pudding onto a warmed serving platter. Peel and discard the paper liner. Ask someone to kill the lights in the dining room while you warm 2 to 3 tablespoons of brandy in a small saucepan. Set the brandy on fire with a match and pour it over the pudding before entering the dining room. Slice and serve with hard sauce.

For the hard sauce/brandy butter:

Beat the butter and confectioners' sugar together until blended. Beat the brandy in gradually. If the mixture curdles, beat in a bit more confectioners' sugar or 1 or 2 tablespoons of boiling water. Refrigerate until serving.

---
4 Christmas Movies for Your Weekend Movie Night
The Apartment (Billy Wilder, 1960)
Not just one of the best holiday movies ever, Billy Wilder's 1960 film about a longsuffering schmuck who grows into a mensch, is also one of the great Rom-coms ever made. And, let's face it, Christmas-time demands a dose of romance. C.C. "Bud" Baxter (Jack Lemmon) is a lonely office laborer for a big insurance company who loans his apartment (sometimes without much agency) to his superiors for their various affairs and dalliances. He's generally a decent guy, but he's listless, drifting about like a roustabout. He's got no code, no mission, no purpose. And then he falls in love with the elevator girl in his building, Fran (played by the wonderful Shirley MacLane), herself a bit of an existential nomad who is caught in a deeply unhealthy relationship with a company exec. It's a rom-com, so the ending is more or less predictable, but the path to the final shot is marked with enough surprise turns and dramatic irony to make The Apartment a remarkably unsentimental movie about falling in love during the season when it's most difficult to be alone. It's a great film, holiday or otherwise.
—David Kern

The Muppet Christmas Carol (Jim Henson, 1992)
Nothing breathes new life into a well-worn literary classic like Jim Henson's Muppets. They are an everlasting reminder that stories are fun, lest hoity-toity Mr. Dickens take himself too seriously. Enjoy Kermit the Frog as the gentlest Bob Cratchit that ever was, Miss Piggy as perhaps a more aggressive Emily Cratchit than Dickens dreamed of, and the not-to-be-missed Fozziwig Rubber Chicken Factory Christmas Party. Eminently quotable; songs that for better or worse will be stuck in your head forever; and could it be Sir Michael Caine's best performance? We'll let you decide as he takes up the mantle of Scrooge in this playful rendition of A Christmas Carol. —Emily Andrews

Die Hard (John McTiernan, 1988)
The house is dark. The kids are finally asleep. The presents are wrapped. A gentle snowfall blankets the world outside, and all that remains is to spend an hour or two basking in the calm before the morning storm. Allow me to cast my vote for one of the great Christmas movies ever made: Die Hard. Now, I know that on the surface Die Hard has more in common with Neo's escape from the Matrix than it does with Jimmy Stewart's wholesome mid-life crisis, but at its heart this movie is about redemption, sacrifice, and faithfulness, and while John Mclane is certainly no saint, he is a hero. And let me remind you: peaceful manger scenes aside, Christmas is the story of a hero, standing alone against the odds, enduring torment upon torment for the sake of the love he bears for his bride. Remembering that, no matter the medium, is what Christmas is all about. So snuggle up, hold your spouse close, and yippee-ki-yay.
—Ian Andrews
Meet Me in St. Louis (Vincent Minnelli, 1944)
For viewers who want a classic but not overplayed family film, try Meet Me in St. Louis. Released in 1944, the story follows the Smith family over the course of an eventful year. Through their various challenges and triumphs, the Smiths sing, dance, endure, and celebrate all the way to the World's Fair in - you guessed it - St. Louis. In the tradition of Oklahoma and Kiss Me Kate, Meet Me in St. Louis offers rolicking song-and-dance numbers, heartwarming moments of human connection, and nostalgic reminders of a more innocent time. The film stars a young Judy Garland who debuts the time-honored seasonal tune, "Have Yourself a Merry Little Christmas." This holiday season, pop some popcorn, mix some hot chocolate, and cuddle up for family movie night with Meet Me in St. Louis. —Heidi White