Discover more from FORMA Journal
Book reviews, interviews, poetry, and essays online and in print.
Over 4,000 subscribers
Lost No More: Loving NYRB Classics
How one publisher gives us the chance to remember forgotten classics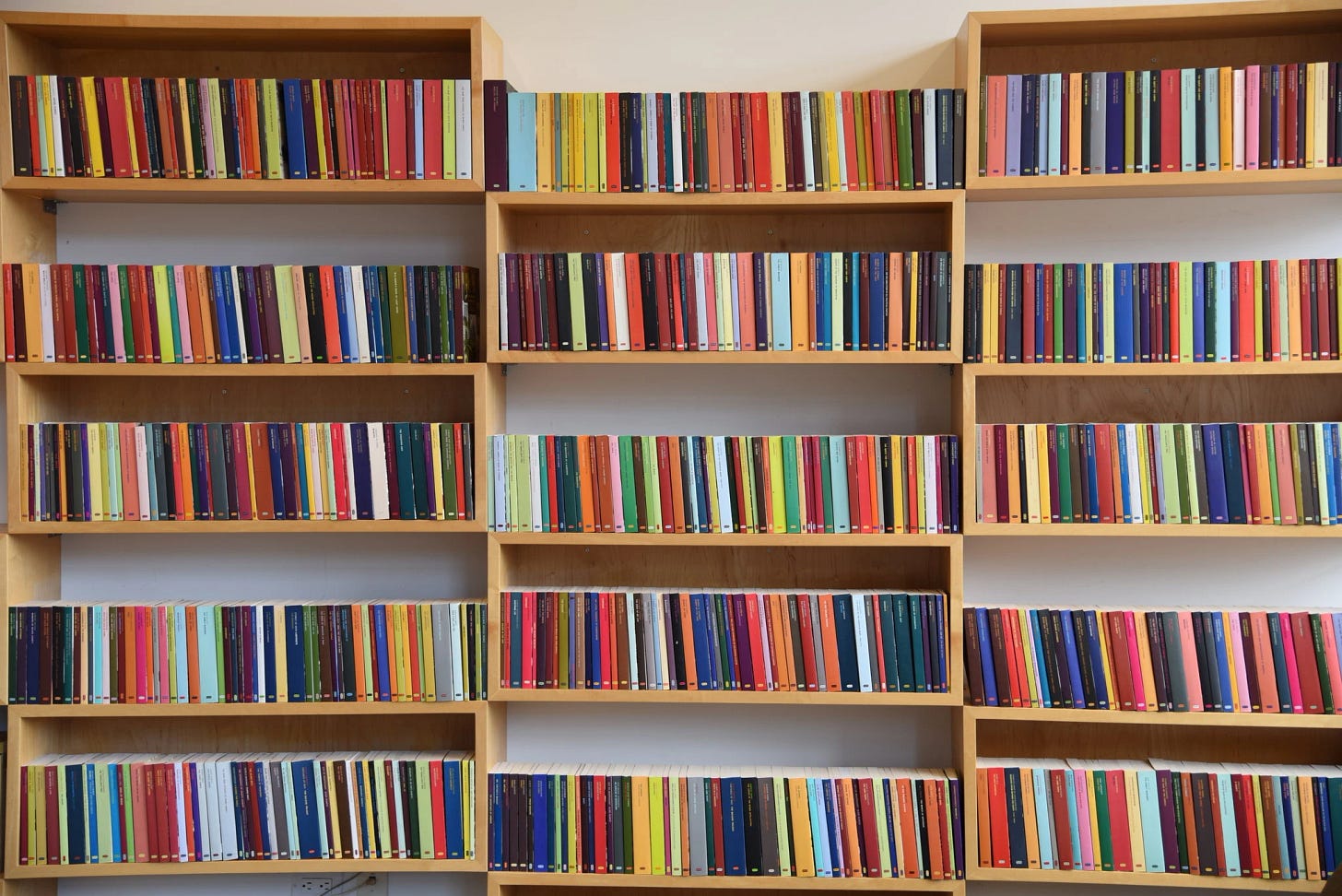 Image courtesy of Angela Hederman
---
By Dorian Stuber
My father's library included three shelves that held nothing but small white paperbacks. At the bottom of each spine, in a bold black lowercase sans-serif font, stood three letters: dtv. As a child, I loved to linger in front of those shelves. I knew that the books were in German, but that wasn't what made them unusual; my Swiss father had plenty of German-language books. No, what made them stand out was their collective solidarity—they were of a piece, they existed together, they had presence.
When I took them in my hands I felt that presence still more strongly. As if to compensate for the sober spines, the covers were vivid, in a style so indelible I could tell they were by the same person even without the spiky signature that graced their corners: a P so abstract it could have been a mathematical symbol; an A so grandiose it almost obscured the I that preceded it; the bar of the A charging eastwards to join two Ts; and a final diminutive I with a dot that sat over the line extending out from the Ts. Piatti, my father said, when I asked him about the illustrator. Do you like him?
I did. I couldn't read the books. I was too young, and besides my German wasn't good enough. But I could revel in the design: collages of typography and newspaper illustrations, gauzy pastels, or, most delightfully, vibrant drawings with the bold lines and strong colors of children's book illustrations. Each cover offered a single image surrounded by white space, like a painting in a gallery. In one, an empty boat lolled like a drunk, its abandon complicated by an improbably tall mast that became a cross, all of which dominated a townscape complete with a keep, some trees, and a bridge. To my ten-year-old eyes, the cover of Heinrich Böll's Irisches Tagebuch (Irish Journal) bespoke adventure.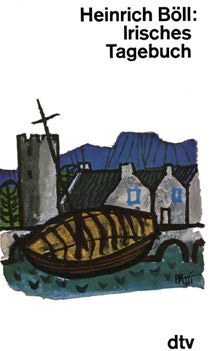 I didn't know it at the time, but Böll's idiosyncratic reminiscence of his travels through 1950s Ireland was an important book in German publishing. It was the first title from the consortium Deutsches Taschenbuch Verlag (DTV), which was established in 1961 to bring selections from the backlists of ten publishers together in a single, inexpensive format. DTV was a milestone of postwar West German recovery, part of the way the nation claimed a new identity. It's telling that the first book in the collection, although by an important German writer, was not about Germany at all, but about a place, in Böll's telling, both more magical and more impoverished than the Germany of the economic miracle. West Germany was once again in a position to look outside itself.
Just as important to the success of DTV, though, was the man who designed the cover for this and, over the next three decades, thousands of additional titles. Celestino Piatti was a Swiss designer. He was a generation older than my father, but they shared a similar aesthetic, one I literally grew up in, manifested in the strong but spare lines of our house, which my father, an architect, had designed.
Piatti's sensibility turned the DTV books into a collection. That was the presence I intimated as a child. I've always collected things: feathers, stamps, hockey cards, cassette tapes. But especially books. I loved it when books fit together: Farley Mowat paperbacks from Seal/Bantam, the Puffin Swallows & Amazons series, Enid Blyton's Adventure Series in lovely little editions from Piccolo. A collection, I already sensed, told as much about the collector as about the thing collected. It meant something that my father had brought these books with him to Canada in 1968 and acquired more on his infrequent trips home. 
---
This is our weekly free email. For the full FORMA experience, including the print edition and exclusive digital content, subscribe today.
---
Perhaps an unconscious connection to my past—to the window I gained into my father through his books—lies at the root of my love for one of the most thoughtfully curated collections published today, the NYRB Classics series. The series launched in 1999 and now publishes about twenty-five titles annually. The first titles included a collection of Chekhov stories, some Alberto Moravia novels, two memoirs by the inimitable stylist J. R. Ackerley, and a hard-to-classify but indisputably brilliant novel by the British writer Richard Hughes, A High Wind in Jamaica (1929), in which some schoolchildren travel from the Caribbean to England and are abducted en route by pirates (in the end, the pirates are the ones who suffer). A mixture of established classics, world literature that had unaccountably fallen out of print, and rarities unknown in the US: the collection began as it meant to go on.
But even someone unaware of their contents could tell immediately that these books belong together. NYRB's own Piatti is the graphic designer Katy Homans. Her formula will doubtless be studied by students of design for years to come. The books are uniform in size, featuring solid-colored spines, each in a different shade. (A shelf of NYRB books looks like one of those charts showing the rise in annual temperatures, or, less alarmingly, certain abstract Gerhard Richter paintings.) In contrast to the vivid spines, the colophon is discreet: a rounded box in a contrasting shade encircling lower-case letters. And the covers, oh the covers! Featuring details from a pleasingly catholic selection of paintings, drawings, photos, and other visual materials, the cover images are always overlain by a text box, placed about a third of the way down the page, listing author and title. The box background is the same shade as the spine and back cover; author and title are printed in a complementary shade that also appears inside the covers. The books have heft, they lie pleasingly in the hand. The spines are tough, hard to break—if you care about that sort of thing. They're beautiful, is what I'm saying.
Homans has created a design characterized by surprise. You see that most tellingly in the way the title box complicates, sometimes even impedes our reading of the image. The cover for J. G. Farrell's marvelously funny and dark novel of the Irish Civil War, Troubles (1970), for example, is from an amateur Edwardian photograph showing a hansom cab that has tipped over and the men, almost all of whom are shot from behind or in profile, who have gathered variously to gawk or help right it. But until I read the caption on the back cover, I didn't notice the cab, most of which is blocked by the text box, represented primarily by a wheel that makes a horizontal line across the background. Somewhere, perhaps behind the text box or out of the frame, must be a terrified horse. Homans has selected a subtle image, a violent image, an image of everyday violence, the perfect accompaniment to a novel that shows interpersonal relationships to be as terrorizing as bombing and arson.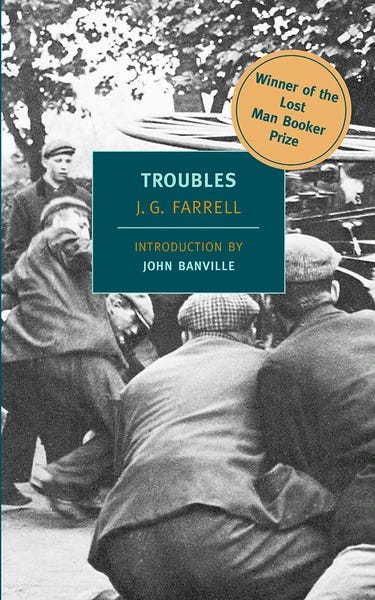 Homans's strategy—forcing us to see by stopping us from seeing—matches the collection's editorial mandate. The books surprise as much by their content as by their look, requiring readers to revise their ideas of literary history. No discussion of NYRB books can fail to mention Edwin Franks, the collection's editorial director. A poet without previous experience in publishing, he stumbled into the venture when compiling a miscellany of in-print titles in the pre-internet 1990s. Aghast at how much backlist was out of print, he approached the publisher of the literary journal The New York Review of Books with the idea of launching a publishing arm. Frank has said he reads prose like a poet, often reading endings first, looking for resonant last lines. He is clearly a passionate, generous reader, aware of how one book leads to another. In an email, he noted that title suggestions come from all over: "agents, bookstores, people who write in about favorite books, foreign publishers, writers, friends, family." Despite this variety, the collection manifests a strong sense of intellectual and aesthetic cohesion. Last year, to commemorate its twentieth anniversary, NYRB published an anthology of selections from the collection's titles, which, like Ariadne's gift to Theseus, offers readers a way to navigate the labyrinth of its riches. 
Curious as I am to see what Frank and his small editorial team included, I prefer to unspool my own thread. For me, the collection tells a story of the twentieth century. Yes, a number of NYRB titles are from the nineteenth century, a handful from earlier, but its heart lies in our recent past. NYRB's twentieth century is largely European and American but the collection recognizes the limitations of that focus and pushes against it. The series includes books from across Asia, South America, and a handful of titles from Africa. Eastern and Central Europe titles feature prominently. The collection tells a global history, centered on the worldwide rise of authoritarianism and the simultaneous resistance to it. 
At the center of this vision is the prominence of fascism and communism as modes of organizing social life that swept up the entire world in a battle that reverberated long after the end of WWII, especially in the battle against colonialism. These books are no hymn to liberal democracies, though. Many NYRB titles consider the painful experiences of oppressed minorities within supposedly open and equal societies. Thus books like Dorothy Baker's Cassandra at the Wedding (1962), about sisters led to near-breakdown by conflicting ideas about what lives women should lead; William Attaway's Blood on the Forge (1941), about brothers who flee the South in the African-American Great Migration only to experience different kinds of suffering; or Dorothy Hughes's The Expendable Man (1963), a brilliant thriller of paranoia and stereotyping, contribute as much to a tradition of resistance as more conventional examples like Friedrich Reck's depiction of the years of Nazi rule, Diary of a Man in Despair (1947), or Eileen Chang's novel of failed land reform in Maoist China, Naked Earth (1956). 
Some of NYRB's books are titanic works of twentieth-century literature, like Olivia Manning's Balkan Trilogy (1960 – 1965), Vasily Grossman's Life and Fate (1980), or Uwe Johnson's Anniversaries (1970 – 1983). These are magnificent publishing accomplishments. As is the commitment to publishing most of a writer's books, as in the case of the English stylists Henry Green and Sybille Bedford. But even more valuable, in my opinion, are the many slender titles, sometimes on seemingly "minor" or domestic topics, that the press brings back into print. Not surprisingly, many of these are by women writers. Some were famous in their time, even if disparaged as popular, like Vicki Baum's bittersweet Grand Hotel (1929). Others weren't, like Barbara Comyns's hallucinatory The Vet's Daughter (1958). 
The NYRB classic closest to my heart, the one that is mine, because it feels like a secret, fits into the latter category. Eleanor Perényi's memoir More Was Lost (1946) begins with the author, nineteen years old in 1937, attending a dinner party at the American legation in Budapest.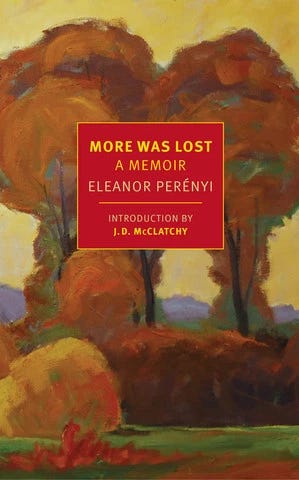 There she meets an Oxford-educated, communist-sympathizing Hungarian nobleman, Baron Zsigmon (Zsiga) Perényi. The spend the rest of her week in Budapest together. On her last evening, after admitting with characteristic dry irony his lack of prospects, he proposes. Zsiga's poverty was enticingly aristocratic: he owned an estate, Szöllös, but it had fallen into disrepair and, worse luck, was located in territory that had been given to the Czechs in the Treaty of Trianon. Zsiga needed a passport and permission from the authorities even to visit. Eleanor takes the plunge, and together they resurrect Szöllös. Perényi enters a world governed by both aristocratic tradition and violent change. Everything had been overturned by the last war—Szöllös was looted three times—and would be overturned still further by the next. Whenever I press the book on someone, I have to stop myself from calling it "charming." More Was Lost is not a book with a happy ending, but reading it makes me feel, if not happy, then zingingly alive, fully satisfied, in thrall to Perényi's self-awareness and her story of courage under the pressures of tyranny. There are elements of whimsey—she pauses to straighten a pile of New Yorkers as she leaves Szöllös for the last time—but, as we find in other NYRB classics (Comyns's Our Spoons Came from Woolworths (1950) or Teffi's Memories: from Moscow to the Black Sea (1928 – 1930) are fine examples), this disposition is less carelessness and more a challenge to the humorlessness of authoritarianism. 
Thanks to the NYRB Classics, more than More Was Lost is lost no more. The collection has resurrected over 500 titles in its mission to bring you books you didn't know you needed. Before the reissue, I'd never heard of Perényi or her memoir. But now I can't imagine my readerly self without it. It makes me wonder what other books are out there, waiting to become essential to my understanding of the world. (Among forthcoming titles, Frank is especially excited about Susan Taubes novel Divorcing (1969) and a new translation of the nineteenth-century Austrian writer Adalbert Stifter.) As Perényi's title suggests, loss is constitutive of history, especially the history of the violent twentieth century. But with care and attention, loss can sometimes be overcome. 
In this sense, Eleanor Perényi is a standard-bearer for the values upheld by the collection: decency, modesty, interest in difference, however hard and unhappy-making it can be. Lots of NYRB titles could be called "depressing" (even the funny ones usually come with a sting, a sense of irony that leaves you gasping for air). But taken together they are better understood as a literature of witness, an affirmation of sometimes subterranean resistance to the homogenizing ruthlessness of authoritarianism. These books offer a manual for how to remain generous—fully human—when so many social forces push us in the other direction.
Unlike my father, I don't have a library per se; no single room in our little households my books. Instead, they're everywhere, in pretty haphazard order. But I do have one case filled just with my NYRBs. I wonder if these books will mean as much to my daughter as my father's DTV paperbacks did to me. Impossible to know what of our lives will stick with our children. Even when we love the same thing, it's hard to know what form that shared appreciation will take. Do we share it like a ride (all going to the same place) or like a cake (a piece for each of us)? What did those DTV books mean for my father? Were they a reminder of the language he willingly left behind, with, so it seems to me, scarcely a moment's regret? (How different his migration than the ones described in so many NYRB volumes.) Were they a shell to be cast off, as he made his way in a new world? Were they markers of the intellectual he'd have liked to be? Will my daughter know that her father, who with luck will live more of his life in the twenty-first century than in the twentieth, always identified with the pre-internet world, a world in which WWII was in the recent past? Will she finger those colorful spines, marvel at Homans's arresting designs? Will the world she grows up in value decency, equity, and openness? If not, those books will be able to do much more than remind her of her father's unstoppable love of books. They will tell her the story of a past able to inspire the future.
---
Dorian Stuber teaches English at Hendrix College and blogs about books at www.eigermonchjungfrau.blog.