Today in the 12 Days of FORMA: An unusually good fruit cake from noted writer Robert Capon + 4 things you should read this Christmas.
---
Robert Capon's Resurrected Fruit Cake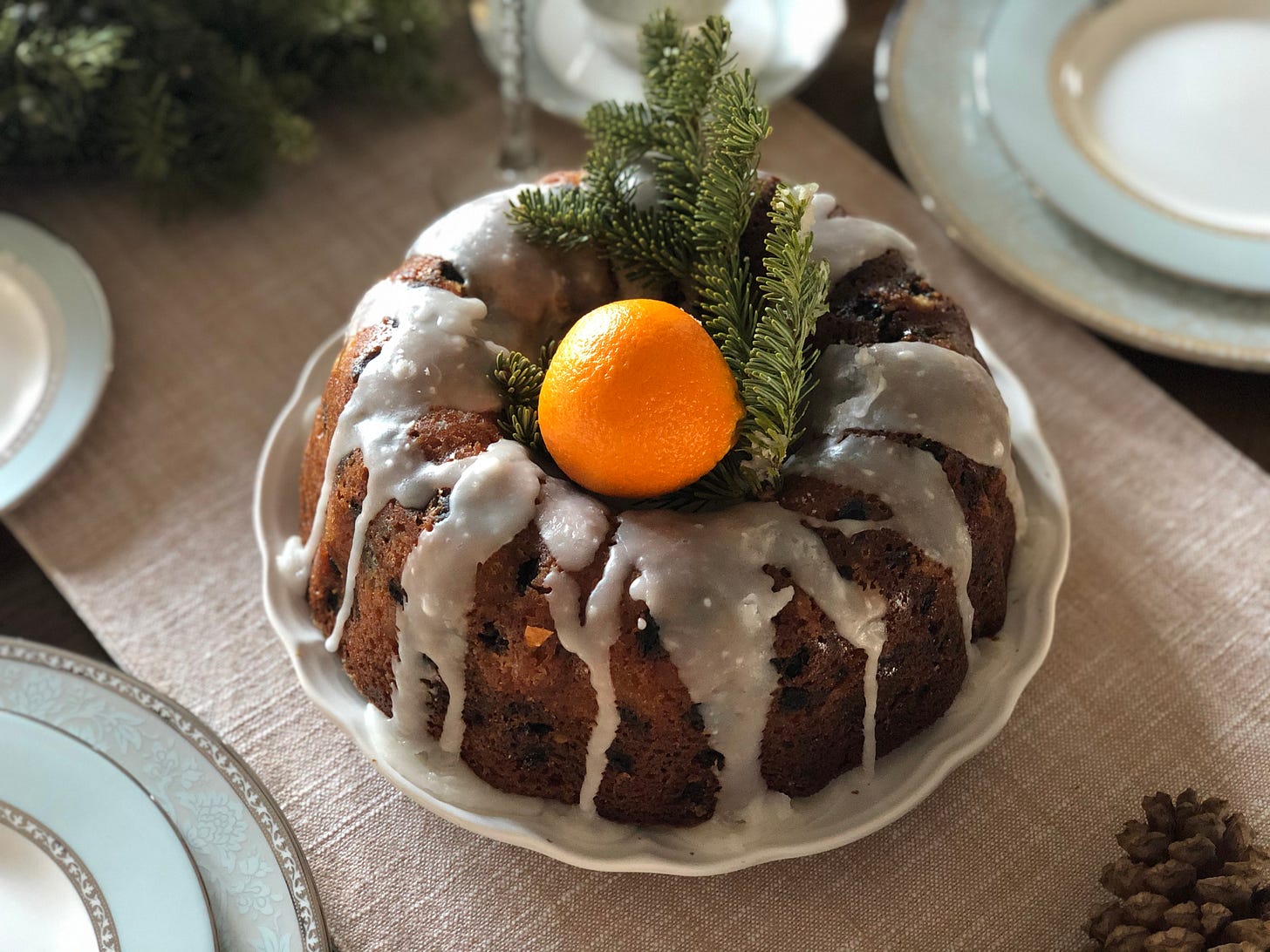 When I explained to the silver-haired Trader Joe's cashier that I was gathering ingredients for a fruit cake, he raised a quizzical brow to my youth and inexperience and said, "I thought the fruit cake was extinct—and for good reason." I'll admit I was of his opinion. Growing up, fruit cake was always shorthand for a good Christmas joke. But if anyone understood that Christmas is all about bringing new life to dead things, it's the author whose recipe I was undertaking. This year the FORMA team, inspired by Sean Johnson's beautiful apology for The Supper of the Lamb, decided to try Robert Farrar Capon's fruit cake recipe. He originally published it as an article entitled "Fruitcakes: Solid Evidence for Christmas" in The New York Times, and I highly recommend you check out that article for yourself.
With classic Capon good will, he explains that humanity has always had a way of going too far with a good thing. In the case of the fruit cake, when we discovered that we liked inserting fruit into a classic raisin cake, we then tried to cram in every varietal of fruit known to man. We forgot that other important contribution to its flavor: cake. Capon speculates that the modern fruit cake is subjected to "an internal pressure so great that the fruits and nuts adhere to each other by their own molecular attraction." He recommends instead we strip down the recipe to its basics and simplify, simplify, simplify.
Capon includes candied orange and lemon peels among the few fruits we are allowed to include in the cake. Unable to find them prepackaged, I was forced to try my hand at making them myself. To do so, I took all of the peels and boiled them together in water for 20 minutes. I then brought a sugary concoction (2 parts sugar, 1 part water) to a boil, drained the peels, and added them to the sugar water to boil for another 45 minutes. Finally, when finished, I drained the peels and threw down some parchment paper to coat them in, yes, more sugar. They then need to dry for a couple of hours before they can be used in the cake.
Below are copied Capon's own instructions. In the article he recommends finishing the cake off with a simple, confectioners sugar glaze. But I threw in a little of the Cognac to that glaze—I'm pretty sure Capon wouldn't mind.

By the way, the cake is delicious.
Ingredients:
1pound butter at room temperature
2 cups sugar
6 eggs
4 cups flour
2 teaspoons baking powder
2 teaspoon salt
1 tablespoon vanilla
1/4cup Cognac
1 box (15 1/2 ounces, 2 1/2 cups) seedless raisins
1 box (10 ounces, 2 cups) dried currants
½ cup candied orange peel
1/2 cup candied lemon peel
1/2 cup candied citron peel

Instructions:
1. Preheat oven to 325 degrees.
2. Cream butter and sugar together. Beat in eggs, one at a time, until incorporated. Sift flour, baking powder and salt together and fold into mixture. Add vanilla, Cognac and all fruits and mix well.
3. Pour into well-buttered tube pan or into small loaf pans and bake 1 1/2 to 2 hours or until inserted cake tester comes out clean.
4. Allow to cool somewhat and remove from pan. Glaze while still warm with confectioners' sugar-and- water icing to which a little grated lemon rind has been added.

Yield: 1 large fruitcake or 6 small loaf cakes.
---
4 Magical Things to Read This Christmas
Letters from Father Christmas | J.R.R. Tolkien
Too many of history's great men turn out to be bad husbands and worse fathers, but J.R.R. Tolkien seems to have been the genuine article—a warm and attentive pater familias. No other sort could have managed the whimsy, cheer, and meticulous detail of Letters From Father Christmas year in and year out. The book is a collection of Tolkien's yearly letters to his children in the guise of Father Christmas, each featuring his distinctive, spindly calligraphy and elaborate color illustrations. Through tales of bumbling polar bears and the occasional North Pole goblin war you will sense his audience aging (each, in their turn, ceasing to write to the North Pole), but the love of this father for his children glows unmistakably through the very last letter. —Sean Johnson

"A Child's Christmas in Wales" | Dylan Thomas
I can't prove it, but I've always had a hunch that Dylan Thomas wrote his poem, "A Child's Christmas in Wales," as a kind of theodicy—an explanation of the impulse behind the Incarnation. He presents ten thousand petty, humdrum human details—"the snow and the postman and the presents"—through the eyes of a child who loves without guile or thought of gain—loves like God. As the years of memory accumulate like snow in the heart of Thomas' adolescent narrator, a myriad of ordinary moments draw up into one night of "close and holy darkness" falling on a world about to see a great light. —Sean Johnson

"The Lost Boy" | George MacKay Brown
"The Lost Boy" is weird. My kids didn't really care much for it the first time I read it, and I can't promise yours will either. Honestly, I'm not sure it's good in the way we usually think about short fiction. It's probably too short. It needs to lean into it's own whimsy a tad bit more. And the characters are too lightly drawn. Yet there's a magic in it that makes it worth reading this time of the year. The weirdness plays in its favor, and it will leave you (and your kids) contemplating and wondering--a worthy goal in the days leading up to Christmas--about what in the world the whole thing is about anyway. I'm all for stories that leave my kids staring at me with that bewildered, eyes-wide look that says, "what in the world?". Awe is a great thing. —David Kern
"Dulce Domum" from The Wind in the Willows | Kenneth Grahame
The episodic nature of The Wind in the Willows allows each of its chapters to stand well enough alone. Why not, then, include Chapter 5 or "Dulce Domum" among your family's Christmas lore? Marshaling the humblest of resources, Rat and Mole throw together one of the coziest Christmas celebrations in Western literature. Yet the prominence of the holiday somehow grows dim in context with the rest of the chapter's happenings. "Dulce Domum," as the name suggests, centers around a homecoming. Mole has spent long months expanding his horizons, but walking in the wilderness with Rat one day, he is irresistibly drawn toward the home he left behind. They find it empty and unkempt, and Mole despairs of acting the proper host to his new friend. But, turning the tables on him, Rat takes charge and pulls together a magical Christmas for Mole. And isn't that what Christmas is all about, anyway? Powerless to Fixer Upper ourselves, we celebrate the Savior who came into our house and made for us a home. —Emily Andrews
---