This essay was originally posted at FORMAJOURNAL.COM.
The first books of crime fiction I read belonged to my mother. They were on the living-room shelves in the small house in Pomona, California (east of Los Angeles), where I lived with my mom and grandma and my younger brother from the early 1950s until the fall of 1963. There were books on birds and trees, and several handsomely bound volumes originally belonging to my great-grandfather. "Read with profit, handle with care, and return within 30 days," his bookplate said; each book in his library was assigned a number. There were books on gardening, books on the Bible, and books on China, where my grandparents had been missionaries (and where my mom lived until she was eleven years old). And there was a generous assortment of fiction.

Over time, I read almost all of the books on my mom's shelves, except the ones on birds and trees and gardening. The fiction ranged from Jane Eyre and Elizabeth Goudge's Green Dolphin Street to several little red volumes from an inexpensively produced set of classic American lit (Washington Irving, James Fenimore Cooper, Edgar Allan Poe). It was in one of these that I first read Poe's "The Purloined Letter" and "The Murders in the Rue Morgue," the very fount of modern crime fiction.

"Mysteries" was the label we used. On my mom's shelves, they included a couple of Earl Derr Biggers' Charlie Chan novels, a couple of novels by Mary Roberts Rinehart, and a range of other titles, including some Dell Map Backs. My brother, Rick, and I loved to lie on the living-room floor looking at those cleverly designed maps showing the location of murders taking place in the book at hand and other relevant information. ("Murder," a troubled reader may be thinking, "isn't a puzzle." True, but treating it as such, in a well-defined setting, can evoke pity and terror along with providing diversion. Greek tragedies and comedies were routinely part of the same program.) The same shelf held several Perry Mason titles; we watched the TV show every week, and I always kept an eye out for a new Mason novel (in condensed form) in The Saturday Evening Post.

There were very few recently published books in our living room. My mom loved to read, but money was scarce, and we were heavy library-users. The Pomona Public Library as it was in those days was a godsend to us. At the same time, I was starting my own little library. At the age of nine, I bought a book for myself for the first time: one of the Hardy Boys' adventures. It took its place in the bedroom my brother and I shared, alongside a series of brief, illustrated missionary biographies (Adoniram Judson, Mary Slessor, Hudson Taylor, and Wilfred Grenfell, among others). For Christmas in 1959, when I was eleven years old, I was given The Boys' Second Book of Great Detective Stories, edited by Howard Haycraft; I still have that book (inscribed "For John from Mom"), featuring stories by Agatha Christie and Dorothy Sayers, E.C. Bentley and Edgar Wallace, and many more. An earlier such volume included a story by Arthur Conan Doyle, "The Red-Headed League," which introduced me to Sherlock Holmes and Dr. Watson; in due course, Rick and I were given a fat volume of the complete Holmes, which we treasured and pored over.
Please don't get the impression that I was obsessed with stories of crime and detection. I read all sorts of things: "classic" fiction and the novels included in Reader's Digest Condensed Books and baseball biographies and a good deal of science fiction and a lot of history (I loved the Landmark books) and more. But "mysteries," crime stories of this kind—in books especially, but also on TV—got my attention early on, and over the decades (I'm now seventy years old) that has never changed.

Why? I'm skeptical of attempts to provide a single big explanation for the ongoing appeal of this protean genre. Several years before her death in 2014 at the age of ninety-four, P.D. James wrote a delightful and blessedly sane little book, Talking About Detective Fiction, in which (along with many other topics) she addressed this question, sensibly noting that readers, like writers, come in different flavors—some, for instance, drawn to "solving the mystery," others not. "Certainly," she adds, "if the mystery were dominant no one would wish to reread old favourites and many of us find that, reading in bed, the comfort and reassurance of a beloved mystery is the pleasantest prelude to falling asleep." James wrote this, of course, knowing that some of her fellow novelists would positively writhe at the thought of becoming pleasant bedtime reading.

As much as I have enjoyed and continue to enjoy crime fiction (my brother and I regularly trade recommendations and reading reports via email), I have no desire to cajole anyone to so much as put a toe in the water. Let a thousand flowers bloom. Maybe you have read a handful of crime novels that mostly left an unsatisfactory taste; maybe the CSI-effect or the obsession with serial killers or the casual sadism of murder-themed movies and TV has left you weary; maybe you find crime fiction in all its forms simply a waste of time. Fine. But if you have read at least this far, maybe you are thinking you might explore a bit. In that case, Talking About Detective Fiction is not a bad place to start. You'll get a concise, witty, deeply informed, and personal overview of the genre from one of its masters, one who was a Christian of the Anglican persuasion. And even if you are an adept of crime fiction, with heaps of the stuff at home, you may find a tidbit or two of interest in what follows.

Another possibility, with a narrower frame, is the recently published Classic American Crime Fiction of the 1920s, annotated by Leslie S. Klinger. This massive volume, with the size and heft of a dictionary (remember dictionaries?), continues the vogue for "annotated" editions (see for example the gorgeous annotated and illustrated editions of Jane Austen's novels produced by Harvard University Press or, published just this summer and much less lavishly, the annotated edition of Raymond Chandler's The Big Sleep from Vintage Crime/Black Lizard Books). Klinger, an old hand at such productions, has selected five very different novels, each of which distinctively represents the period: The House Without a Key, by Earl Derr Biggers; The Benson Murder Case, by S.S. Van Dine; The Roman Hat Mystery, by Ellery Queen; Red Harvest, by Dashiell Hammett; and Little Caesar, by W.R. Burnett.
You might also check out one of the collections highlighting women. The prominence of women in crime-writing has been notable for a long time; one of James' chapters in Talking About Detective Fiction, titled "Four Formidable Women," considers Agatha Christie, Dorothy Sayers, Margery Allingham, and Ngaio Marsh. I don't think James gets Christie quite right (the gulf of temperament between them was too great), but it's good to have these lucid assessments in which a great writer takes the measure of four notable predecessors. Among the recent anthologies, try Women Crime Writers: Eight Suspense Novels of the 1940s & 50s, edited by Sarah Weinman and published in a handsome two-volume edition by the Library of America.

And while I'm thinking about it: I find that many fellow-readers of my acquaintance are themselves well-acquainted with P.D. James and her superb series featuring Adam Dalgliesh, beginning with Cover Her Face (1962), James' first novel, and concluding with The Private Patient (2008). This is true even of many readers who don't routinely browse in the fields of crime fiction. But not nearly so many are familiar with Ruth Rendell, James' peer. I strongly recommend both her long-running series featuring Inspector Wexford and her standalone novels; like James, so I think, Rendell was one of the finest English-language novelists of the last fifty-odd years. (Here I am on Rendell's next-to-last novel, The Girl Next Door.)

---
The Crime Fiction Starter-Kit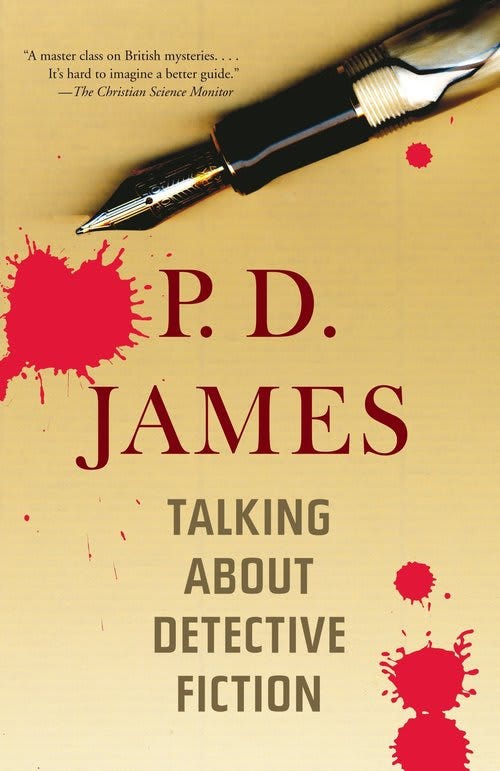 ---
My wife, Wendy, and I often listen to audiobooks. Above all, we love Ellis Peters' Brother Cadfael books, as narrated (accent on the second syllable) by the incomparable Patrick Tull. In September, Levi Stahl wrote one of the best introductions to the series I've seen. Check it out, and I expect that (if you haven't already done so) you'll want to follow the adventures of this twelfth-century healer whose cloistered life doesn't prevent him from solving murders. Brother Cadfael, Wendy and I agree, is our favorite theologian.

Among newer writers, I will mention only one among many of interest. Keep an eye out for Amy Gentry's second novel, Last Woman Standing, due in January from Houghton Mifflin Harcourt. It's a dark and twisty tale for the #metoo moment, much deeper than the endless chatter on that theme; it made me think of Dostoevsky, if Dostoevsky were a woman writing in 2018 and if, alas, he'd mostly lost his Orthodox faith. (Here's my take on Gentry's first novel, Good as Gone.)

I want to return to the question raised earlier, about the persisting appeal of "mysteries," crime fiction, and such. One reason for this, I think, is the way the genre speaks to our fallenness and the fallenness of the world we share. The great-grandfather I mentioned at the outset, a banker, a pillar of his church, several of whose books were on our living-room shelves? Only when I reached my twenties did I learn that, well into his middle years, he had left my great-grandmother (whom I was able to see several times when I was a small boy; she lived to be ninety-four) and taken off with a much younger woman who worked at the bank.

My maternal grandfather, the missionary to China? When he returned from Shanghai to the United States in 1934, in the midst of the Great Depression, no longer presiding over a mission household that was certainly not luxurious but that included servants and that met all the daily needs of the family, he was not inclined to look for a job in those hard times. No, it seemed that the Lord had called him to itinerant evangelism, and off he wandered, leaving my grandmother and the kids to fend for themselves. Again, I learned this only in my twenties—learned, in fact, that he died only when I was three years old.

My paternal Canadian grandfather? Because of the divorce, I didn't know a lot about my father's family. But I had been told that my grandfather had died of pneumonia while in his fifties. (My mom and grandma, fierce teetotalers, added that he had a terrible drinking problem.) Just a few years ago, I heard from a cousin on my father's side. She and I had met when I was eight or nine years old (she sent a photo), though I had forgotten the occasion. She sent me some bits of family history, and Wendy and I had a chance to enjoy a leisurely lunch with her and her husband when they were visiting Chicago. From her I learned that my grandfather had committed suicide. He had lost his once-prosperous business early in the Depression, and from there it was all downhill.

No crimes (that I know of!) were involved in any of these stories. No murders were committed, calling for the skills of Hercule Poirot or Jane Marple. But there were secrets and fallenness aplenty, rippling into many lives over several generations. Such is the story of every human family and of humanity writ large. A "mystery," our preachers remind us, is something to be revealed.

I would like to spend more time with you—not least, to sing the praises of my favorite crime-writer, Ross Macdonald, and his Lew Archer novels, eighteen of them in all, best read in chronological order. But just today I've received a finished copy of Michael Connelly's new novel, Dark Sacred Night, featuring his signature character, Harry Bosch, teamed for the first time with LAPD detective Renée Ballard (introduced in the summer of 2017 in The Late Show). I read the novel as an e-galley several months ago, so I already know that it's terrific, but I've been looking forward to hunkering down with the book. Check it out, if you haven't ever given Connelly a try.
---
John Wilson is Contributing Editor for the Englewood Review of Books. His essays and reviews have appeared in Books & Culture, Christianity Today, First Things, Commonweal, The Christian Century, The Weekly Standard, the New York Times Book Review, the Wall Street Journal, the Boston Globe, and other publications. He and his wife, Wendy, live in Wheaton, Illinois, where they are members of Faith Evangelical Covenant Church.