Discover more from FORMA Journal
Book reviews, interviews, poetry, and essays online and in print.
Over 4,000 subscribers
5 Cookbooks for Your Self-Isolation Cooking Adventures
Unorthodox, adventurous, joyful: these five cookbooks are the perfect kitchen companions for a springtime stay-in-place
Over the next few weeks we'll be curating lists of the best books in various genres, from histories and poetry collections to crime novels and westerns, from books about sports to books about movies, and more. Last week, John Wilson shared five of his favorite histories. Today: our editors suggest five wonderful cookbooks worth befriending.
---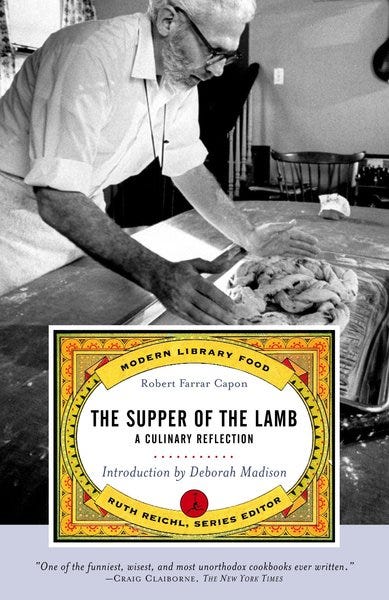 The Supper of the Lamb / Robert Farrar Capon
No mere pun, the title of Robert Farrar Capon's The Supper of the Lamb perfectly captures the essence of his project. Capon, an ordained priest and lifelong amateur chef, weaves his passions together into something that is part cookbook, part sublime theological reflection. While walking the reader slowly and whimsically through the process of making a leg of lamb—"the largest the market will provide"—feed eight people four times, he pauses to sing encomiums to good, sharp cleavers, explain what sixty minutes cutting one onion can teach us about God's generosity, commend fasting over dieting, and lament the sacrilegious meddling that would prevent grape juice from becoming wine. Capon's book is a feast, and whether you hope to perfect your puff pastry or your soul, you won't leave hungry. —Sean Johnson
---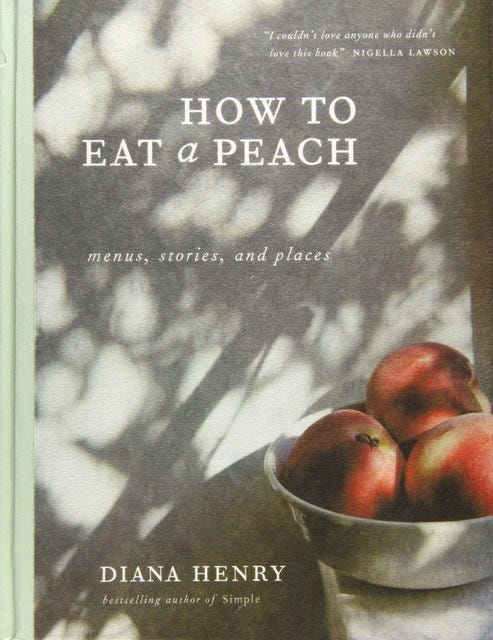 How to Eat a Peach / Diana Henry
The best cooking is not just about the food; it includes the presentation, the tablescape, the dishes, the companions. It is a wholistic sensory experience—not mere taste, but aroma, texture, color, sound. Even more than that, cooking can also tell stories: perhaps memories of fresh coffee and cinnamon rolls on childhood Christmas mornings or alfresco cacio e pepe and chilled chablis on vacation at Lake Como. British food writer Diana Henry understands the intimate connections between the meals we make and the memories we cherish. With the ardor of a lover and the precision of a chef, Henry offers 24 full menus and 100 individual recipes in How to Eat A Peach: Menus, Stories, and Places, each designed to engage the senses and inspire meaningful connections. She presents the menus with luscious photographs and delightful essays that invite readers to enter into the story of the food. How to Eat A Peach is more than a cookbook; it is a vibrant celebration of the power of a shared meal to create a common life. —Heidi White
---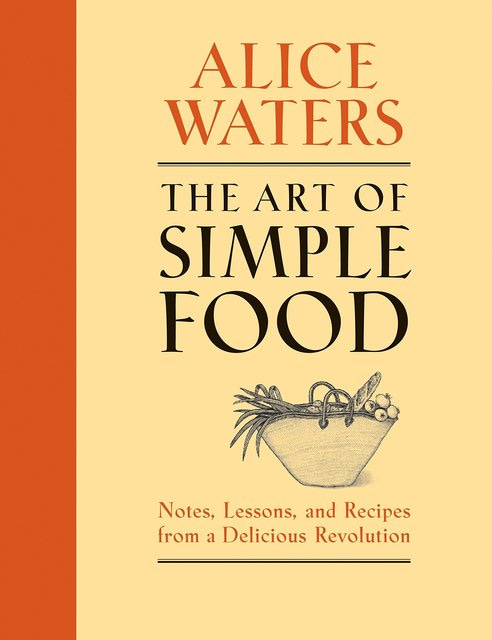 The Art of Simple Food: Notes, Lessons, and Recipes from a Delicious Revolution / Alice Waters
In the introduction to this wonderful book, Alice Waters, one of America's greatest chefs and restaurateurs, claims that "good cooking is no mystery. You don't need years of culinary training, or rare and costly foodstuffs, or an encyclopedic knowledge of world cuisines. You need only your own five senses." She goes on, "I'm convinced that the underlying principles of good cooking are the same everywhere." So as much as anything The Art of Simple Food is a manifesto declaring that food is precious, cooking is an art worth savoring, and the kitchen is a sacred place. New ideas these are not, and yet they're worth remembering in the doldrums of a long quarantine. 

Full of techniques both classic and novel, recipes familiar and adventurous, it's a power-user's cookbook—the sort worth gifting to newly-weds or growing families because it will never stop being useful. This is no coffee table cookbook. You will want to take notes in it, dog-ear pages, let it become a diary of your cooking life. It's durable enough to keep near your everyday cooking tools and comprehensive enough to turn to whether you are planning a multi-course dinner for friends (one day such things will happen again) or learning new techniques for old staples. Waters will help you stock your pantry strategically, develop a reliable homemade vinaigrette, and master risotto bianco, while she also guides you through poached egg with curly endive salad, onion tart, and tangerine ice. 

Since 1971, when she opened her renowned restaurant, Chez Pannisse, Alice Waters has been one of America's preeminent food presenters. She's an artist, sure. She's a technician, yes. But, above all, she is a host, a congregator. You might find her book helps you follow suit. —David Kern
---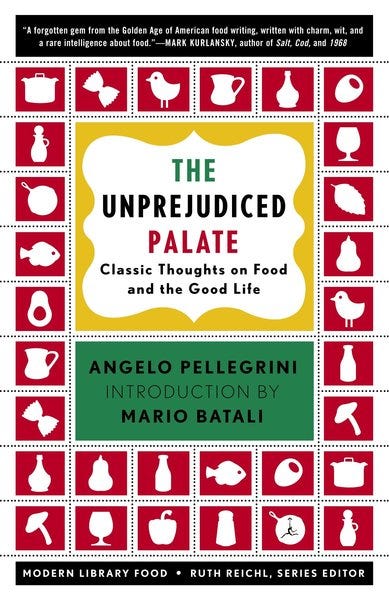 The Unprejudiced Palate / Angelo Pellegrini
Angelo Pellegrini was a Tuscan immigrant who surveyed the growing glut of post-war food writing and "concluded that what America needs is not another cookbook, but a book on bread and wine in relation to life." Cookery, as he saw it, was being assailed on two fronts. On the one hand were the gourmand writers passing off cooking as an abstruse and highly specialized artform, selling decent housewives on baffling recipes with foreign names. On the other, packaged foods and cocktail culture were each doing their part to turn meals into perfunctory formalities to be prepared quickly and consumed with dulled senses. In The Unprejudiced Palate, Pellegrini offers a more "sensible attitude toward food and drink" by which one can "see the dinner hour in perspective, as an element in the good life." 

Pellegrini's answer is a simple one: gratitude. A soul who eats with thanksgiving can walk the virtuous mean between decadence and indifference; not living to eat, but eating and drinking (Pellegrini built his own backyard winepress) to nourish and enrich life, welcoming good food wherever it may be found. This means tasting widely, without bias, of what has been placed around you—relishing the dandelion greens from your neighborhood as much as grocery store Romaine, embracing local offal over unobtainable foreign spices. 

Pellegrini himself spent most of his adult life as an English professor in Seattle, but managed to coax some manner of produce from every last inch of his cramped, awkwardly sloping yard. His approach is a conservative one, rooted in old family practice and a childhood spent close to food and the earth—"The Things My Fathers Used to Do" is the title of a central chapter. While "conservative" can ring with a sense of close-mindedness incompatible with an "unprejudiced" palate, there is no contradiction here. Burke teaches a prejudice that "renders a man's virtue his habit; and not just a series of unconnected acts. Through just prejudice, his duty becomes a part of his nature." Pellegrini (who titles another chapter "Fish Must Be Drowned in Wine") advocates an unprejudiced palate that aims ultimately at thoughtful, curated prejudices favoring the food we have at hand. Eating is already in our nature; in this moment when a restaurant-bound middle class is being forced back into the kitchen, our virtues and our habits could stand to get reacquainted. —Sean Johnson
---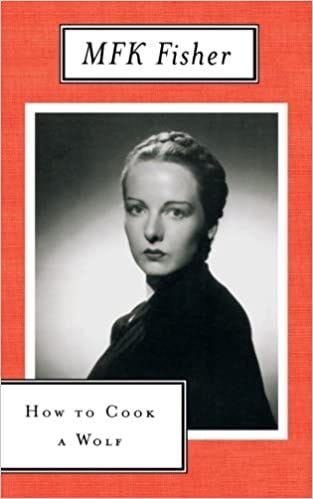 How to Cook a Wolf  / MFK Fisher
When times are uncertain, money tight, and grocery shelves barren, our fathers would say "the wolf is at the door." Ours is a society used to decadence, and when the proverbial question of keeping the wolf at bay suddenly becomes relevant we find ourselves imperfectly equipped. Enter M.F.K. Fisher—not only one of the great twentieth-century food writers, but a wife and mother who felt the personal pinch as the latter years of the depression gave way to WWII food rationing. Her solution to keeping the wolf from the door? Cook it! 

Fisher begins How to Cook a Wolf by doing what any reasonable person does when they encounter a novel hardship; she attempts to recall the habits of her parents and grandparents. To these she adds her own considerable experience and kitchen acumen to create a handbook for making the most of a hard time. Her wisdom ranges from the most basic concerns like "How to Keep Alive" and "How to Boil Water" to more profound but equally salutary concerns like "How to Pray for Peace" and "How to Drink to the Wolf." Fisher's wit lightens the heart as she doles out economical cooking techniques peppered with grooming advice and warnings against making scrambled eggs like a "shrewish wife." Finally, like most of the writers in this list, Fisher is adamant that ferial cooking does not have to mean bad cooking. This excellent little guide makes a practical help and comforting companion in any crisis; you can find it collected in Fisher's The Art of Eating and should you tire of economy you can splurge and read the whole anthology. —Sean Johnson
---
If you like this list, you'll love what a full subscription gets you: 2 issues of our print journal each year plus weekly digital content covering the best books in culture and religion being written today. Subscribe now!
---
Recently, from FORMA Journal
John Wilson shares five of his favorite histories
No One Has Clean Hands: An Interview with Novelist Suzanne Wolfe
Aaron Belz writes the sort of poetry we need
---