Discover more from FORMA Journal
Book reviews, interviews, poetry, and essays online and in print.
Over 4,000 subscribers
Five Sports Books for the Sports-Deprived
To help when you're missing the games themselves . . .
We've been curating lists of the best books in various genres, from histories and poetry collections to crime novels and westerns, and more, all with self-isolation reading in mind. Today: David Kern suggests five sports books worth diving into. If you like this free content, please consider subscribing to the full FORMA Journal experience. It comes with the print edition, too, and you can save 20% when you subscribe now.
---
It's been a month since last we had live sports to watch. We missed March Madness, baseball's opening day,  and the Masters, and we would have been embarking on the NHL and NBA playoffs this week. Of course, this is necessary and right. But I have to admit I'm jonesing for some sports—for the thrill of competition, the drama of the last-second short or walk-off home run; for the larger-than-life characters (even the ones who wine too much about officiating); for the respite from the world at-large. With that in mind I've been pouring over the pages of some of my favorite sports books to fill in the gap. Here are a few worth checking out.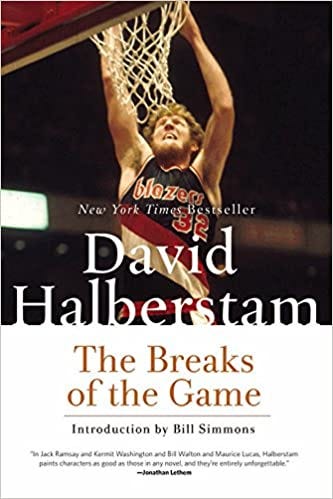 The Breaks of the Game
David Halberstam (1981)
The greatest sports book ever written. 450+ pages of high-end storytelling, top-notch journalism, and evocative analysis, Halberstam's narrative of the 1979-80 Portland Trailblazers is a tour de force. It's the story of a burgeoning league (after all, the NBA then was not what it is today), of injured stars not willing to give up, of the relationship between a city and its team—of race and greed and hope and some of the greatest characters ever to walk between the pages of a sports book. Books about teams from long ago rarely include mystery. For the most part we know who won the games. But The Breaks of the Game is a page-turner as much as any Agatha Christie novel.  
---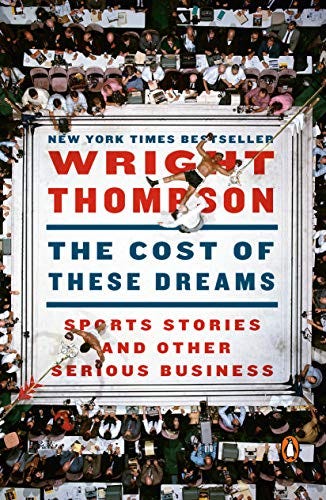 The Cost of These Dreams: Sports Stories and Other Serious Business
Wright Thompson (2019)
It's simple: Wright Thompson is the best sports writer of our time, and The Cost of These Dreams gathers his best work into one must-read volume. Whether he's digging into the minds of all-timers like Michael Jordan and Tiger Woods; chronicling the racial history of places like Oxford, Mississippi; or telling the story of the former college hoops star who died in a Brazilian jungle; Thompson combines the whiskey-soaked prose of Larry McMurtry with the incisive journalistic chops of Gay Talese. His work is literary, obsessive, precise, poignant. Sports are their subjects, but his essays are about people and places, not games; they're about souls, not wins and losses. 
---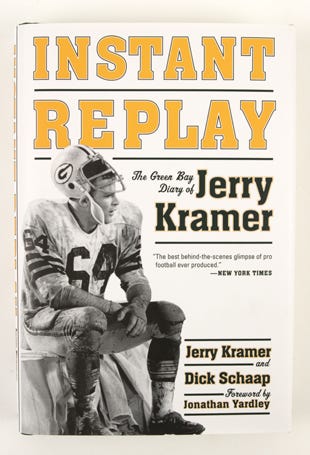 Instant Replay: The Green Bay Diary of Jerry Kramer
Jerry Kramer and Dick Schaap (1968)
In the age of social media and The Players Tribune, behind-the-scenes, first-person glimpses into the world of pro athletes might seem passe'. Not so in 1968, however, when Instant Replay first came out, offering a then unprecedented deep-dive into one of the most famous teams ever —and their hard-headed, demanding, consuming coach, Vince Lombardi. Thanks to Kramer's colorful personality and story-telling instincts, Instant Replay reveals the commitment pro-sports demand and the humanity of the athletes who have become legends. 
---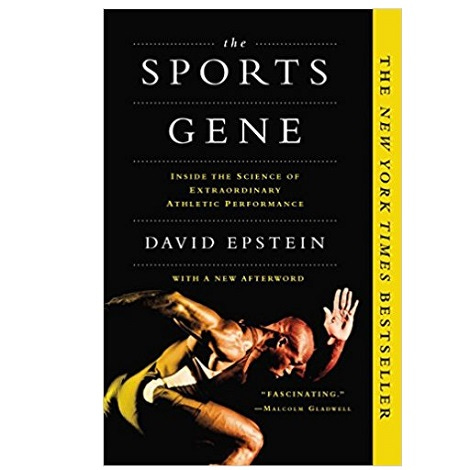 The Sports Gene: Inside the Science of Extraordinary Athletic Performance,
David Epstein (2014)
Epstein, who wrote one of last year's hottest nonfiction sellers, Range: Why Generalists Triumph in a Specialized World, writes books for people who want to know why. In The Sports Gene he digs into the nature of athleticism: into what makes a successful athlete, into the differences between elite athletes and normal people, into questions of race and gender—all with a keen eye on the age-old question of nature vs. nurture. Epstein, who worked for Sports Illustrated when he wrote this book, is one of those rare writers with a gift for making complicated, even esoteric, data look interesting to a layman and, as The Guardian wrote when they reviewed it, the result is a book that is "dazzling and illuminating." 
---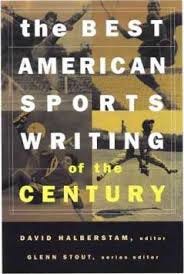 The Best American Sports Writing of the Century
David Halberstam, Editor (1999)
Given that it's a massive compendium of the best pieces written for magazines and newspapers through the 1900s, it would seem strange not to include this book on such a list. In its pages you'll find work by legendary writers like Gay Talese, Tom Wolfe, Red Smith, Grantland Rice, Ring Lardner, Dick Schaap, Hunter S. Thompson, George Plimpton, William Nack, Norman Mailer, John Krakauer, and many others. You'll find work published in the pages of old stalwarts like Esquire, Life, and Sports Illustrated, but also True, The New York Journal-American, and The Los Angeles Herald Examiner. You'll find work that's been made into movies and expanded into books and celebrated so much that the stories themselves are dripping with myth. These are legendary words, written by legendary writers. Each story can be read in a single sitting, and there's something for everyone, die-hard sports fan or not. Even the stories that don't hold up so well in 2020 (for whatever reason), are worth reading for their insights into a world so long gone it might as well be ancient history. The sports world moves fast, books like this keep us grounded. 
---
If you like this list, you'll love what a full subscription gets you: 2 issues of our print journal each year plus weekly digital content covering the best books in culture, history, and religion being written today. Subscribe now!
---
Recently, from FORMA Journal