Discover more from FORMA Journal
Book reviews, interviews, poetry, and essays online and in print.
Over 4,000 subscribers
4 Classic Novels That Are Also Classic Murder-Mysteries
On Dostoevsky, McCarthy, Eco, and Twain
Earlier this week I asked a few of our editors what their favorite examples of crime fiction were, thinking we could begin putting together a list to recommend to you, as we have with sports books, travel books, and so on. But what came back was more interesting than a traditional list of genre fiction—a genre I dearly, dearly love, I might add. Instead of sending over the classics, the books you might expect to find on every such list, they sent back a shortlist of titles that are known more for their esteemed place in the canon of Great Literature. The editors were right: this is a better list. So that's what we have for you today: four classic novels that belong on any list of great murder-mysteries, even if they are sometimes thought of as more "highbrow" than that and not considered "genre fiction." In the end, I suppose most truly great fiction is just genre storytelling made transcendent. (Oh, and if you like this list, please be sure to subscribe to the full FORMA experience. The May issue is coming soon and it's one of our best yet).
---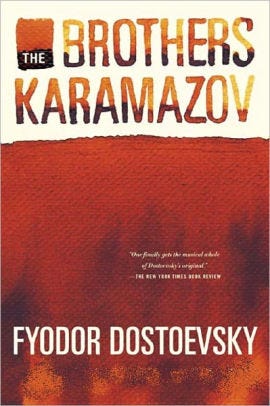 The Brothers Karamazov, Fyodor Dostoevsky
When a wealthy man with a reputation for debauchery turns up dead, the police make their arrest with no hesitation. The motivation is clear: both the man and his son were intent on marrying the same woman. Not only that, but many were witness to their shouting match on the eve of the murder. The firstborn son was heard to demand his deceased mother's inheritance, which his father adamantly refused to give him. The son then threatened to kill his father if he did not comply. The case appears to be closed, the murder a consequence of the oldest vice in the books: jealousy. The only problem, however, is that the son is insistent about his innocence—and his two younger brothers suspect he might be telling the truth. What follows is a wild chase to clear the eldest brother's name and a hunt for the true killer.

Pretty exciting, yes? But this is no contemporary crime thriller. It's Dostoevsky's hallowed Brothers Karamazov, often feared as one of the more daunting philosophical works in the literary canon. Many forget, though, that at its heart it is a murder mystery that will keep you on the edge of your seat as you wade through the question, who killed Fyodor Karamazov? Oh, and: why would a good God allow his creatures to suffer? —Emily Andrews
---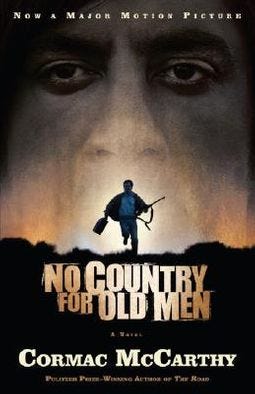 No Country For Old Men, Cormac McCarthy
The Coen brothers could make a great vampire flick. The evil in a Coen brothers film is sinister—dangerous—but you have to personally invite it over the threshold before it poses any kind of deep, existential threat (it also has characteristic weakness easily exploited by any enterprising do-gooder). I was a little incredulous, then, when the pair decided to adapt Cormac McCarthy's No Country For Old Men. McCarthy's evil—typified in his villain, Anton Chigurh—is chaotic, inscrutable, and apparently unbeatable. When crime novelists dwell on human psychology, they tend to be more taken with the psychology of the criminal. Or, when they aren't, they give us the shallower inner workings of hardboiled anti-heroes like you'd find in a Dashiell Hammett novel. By making his villain impenetrable and his protagonist unheroic, McCarthy can spend his time looking deeply into the good man and would-be hero, Sheriff Ed Tom Bell.

The novel's central crime takes place offstage and before the novel opens, but crime after crime spins out from it like sparks from a dancing firecracker—and they all catch. Because the growing circumference of carnage follows no pattern but clearly has a single origin, Ed Tom can devise no easy method for combating it except, finally, a direct confrontation that will likely cost him everything. To contemplate that course, he is forced to turn inward and wrestle ultimately with his own demons. No Country is exceptional among crime novels because it is not interested in what makes a criminal tick, or what can drive a nice guy to break bad, but in the battles won and lost in the heart of every good man who comes up against evil and finds it greater than himself. — Sean Johnson
---
A quick side note. Our dear friends over at New College Franklin have three virtual preview days coming up in May: Saturday, May 2, 2020 at 11:00am CT; Tuesday, May 5, 2020 at 7:00pm CT; and Thursday, May 7, 2020 at 7:00pm CT. If you're in the market for a great small college, be sure to attend one of these previews. You won't find many higher-ed options better than NCF.

---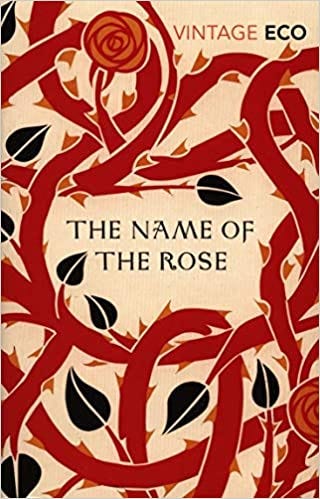 The Name of the Rose, Umberto Eco
The debut novel of the inimitable Umberto Eco, The Name of the Rose is a murder mystery for readers looking to sink their teeth into something. Set in an Italian monastery in 1327, the novel is an intellectual tour-de-force, offering not only a wickedly complex mystery, but also a narrative education in monastic life, scholastic thought, Biblical interpretation, and medieval theology. The story begins when William of Baskerville, a Franciscan friar, and his companion, Adso of Melk, a Benedictine novice, arrive at a monastery in Northern Italy to attend a theological conference between the Pope and the monks, who are accused of heresy. Upon their arrival, they discover that there has been a murder—a young and talented illustrator in the abbey scriptorium. Soon the race is on to unmask a killer amongst the monks. What are William and Adso's means of investigation? Intellectual deduction based not only on the clues they discover but also on the moil of competing ideas characterizing this tumultuous moment in history. The conclusion is both satisfying and enlightening and plunges right into the heart of the corresponding foment of ideologies festering in the milieu of modern thought. Published in 1980, The Name of the Rose has since sold more than 50 million copies worldwide, becoming one of the best-selling novels of all time. —Heidi White
---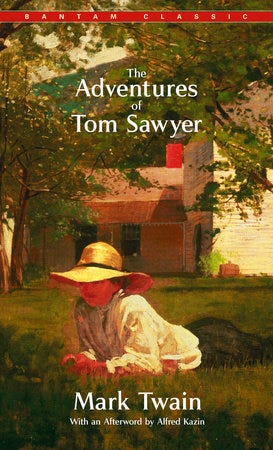 The Adventures of Tom Sawyer, Mark Twain
Although best remembered for the humorous fence-painting scene that takes place early on, The Adventures of Tom Sawyer has death splattered all over its pages. There's Injun Joe's murder of Dr. Robinson, which he frames on someone else—as witnessed by Tom and Huck. There's the boys' fake demise-by-river which, of course, leads to the famous scene where they watch their own funeral. There's Tom's near-death experience with Becky Thatcher. And, of course, there's Injun Joe's own demise in the final chapters. It's not a whodunit in the traditional sense, of course, and it's written for young people; but, like any great crime novel, it is the story about the human consequences of justice-finding when things seem grim. —David Kern
---
If you like this list, you'll love what a full subscription gets you: 2 issues of our print journal each year plus weekly digital content covering the best books in culture, history, and religion being written today. Subscribe now!
---
Recently, from FORMA Journal